Fall is now upon us and that means we need to switch up the treats and desserts we bring to a party or get together. From apple and pumpkin desserts to acorn and leaf-shaped treats, these fun ideas will be the hit of any fall harvest party. Try one or try them all and let us know what you think! 🙂
1. Fun Caramel Apples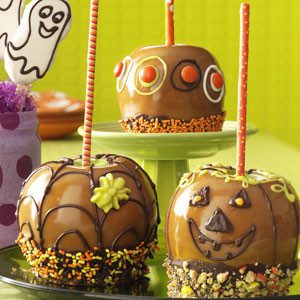 This is the best project to do with your kids and enjoy eating after. The charming designs and gooey candy make these caramel apples irresistible. Just be sure to use apples at room temperature because caramel tends to slip off of chilled apples.
Get Recipe — Credit to Darla Wester, Meriden, Iowa
2. Fall Leaf Cupcakes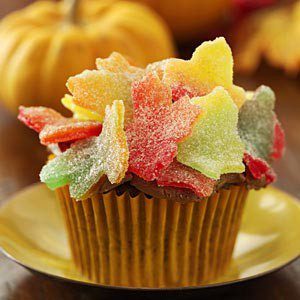 Miniature leaf-shaped cookie cutters make it easy to create this fall leaves scene atop any one of your favorite cupcake recipes.
Get Recipe — Credit to Taste of Home Food Styling Team
3. Caramel Corn Bars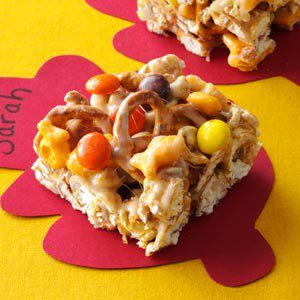 This fun twist on regular Rice Krispie bars is a treat that will get gobbled up in no time!
Get Recipe — Credit to Cathy Tang, Redmond, Washington
4. Acorn Treats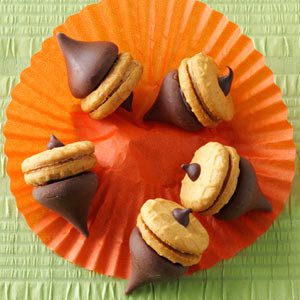 These are the cutest little bite size treats that kids and adults will enjoy. You could make and just have at home for a quick little snack to satisfy your sweet tooth. They are so easy to make and you only need three ingredients!
Get Recipe — Credit to Jane Stasik, Greendale, Wisconsin
5. Caramel Apple Cupcakes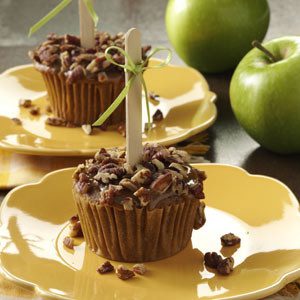 Bring these delicious cupcakes to your next gathering and watch how quickly they disappear — if your family doesn't gobble them up first! Kids will go for the fun appearance and tasty toppings while adults will appreciate the moist spiced cake underneath.
Get Recipe — Credit to Diane Halferty, Corpus Christi, Texas
6. Harvest Corn Cakes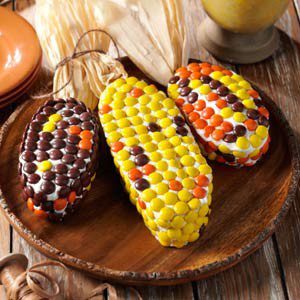 These corncobs are made of cake, frosting and peanut butter candies! Great addition to a Thanksgiving table, and they're so easy to make. Children can help with this project, too. They'll have fun putting the "kernels" on and eating a few as well!
Get Recipe — Credit to Mary Detweiler, Middlefield, Ohio
7. Mini Pumpkin Pies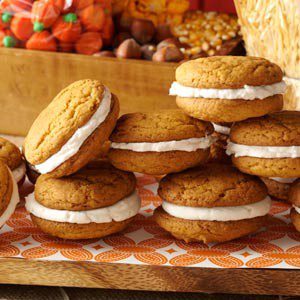 These are a reminder of the ever-so-famous oatmeal creme pies……but WAY BETTER! You won't meet anyone who doesn't like these fun treats.
Get Recipe — Credit to Deb Stuber, Carlisle, Pennsylvania
8. Caramel Apple Cookies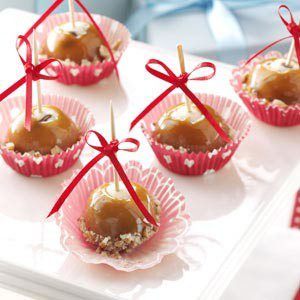 These mysterious chocolate chip cookies will be a hit with kids and adults alike. You can coat the caramel with your favorite type of nut, sprinkles or mini chips.
Get Recipe — Credit to Tammy Daniels, Batavia, Ohio
9. Autumn Leaf Cookies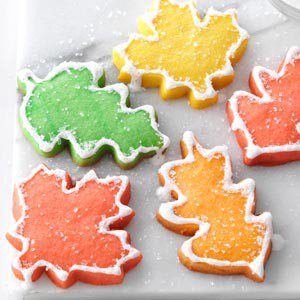 These classic sugar cookies are so vibrate with the different colors and leaf shape. Make them in solid colors, or combine pieces of tinted dough for a multicolored effect.
Get Recipe — Credit to Darlene Brenden, Salem, Oregon
10. Pumpkin Patch Torte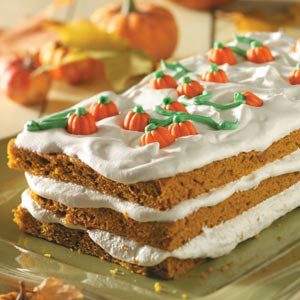 This cake is great for all fall occasions, specifically Halloween. It is moist and delicious, and not too sweet. The frosting's subtle maple flavor is the perfect accompaniment to the pumpkin cake.
Get Recipe — Credit to Taste of Home Test Kitchen
Source: TasteofHome.com