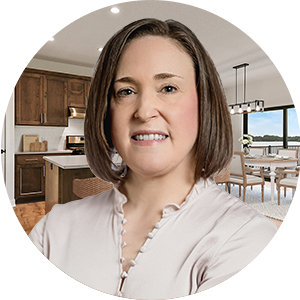 Jessica Stephan
"I am passionate about helping people achieve their goals. Being in real estate allows me to leverage my strengths and experience to help people with one of the biggest and most personal decisions they will make. I have a natural attention to detail and inclination to solve problems with creative solutions. My business background makes me adept at analyzing, marketing and negotiation, all of which I love to do! My main goal is to be an advocate for you and make the entire process as seamless as possible."
---
Jessica was born and raised in the suburbs of the Twin Cities. Although a true Minnesotan at heart, she does love the Wisconsin Badgers (sorry Gopher fans!), from attending the University of Wisconsin- Madison where she earned her Marketing Degree. After college, Jessica spent the next 18 years in corporate business, including executive level roles. Her strong business background and focus on the customer is a great foundation for the real estate business. She enjoys the added creativity her second career in real estate provides. Jessica believes that the combination of hard work, passion, and kindness drives success. When not focused on providing great service and results for her clients, you can find her volunteering with the Muscular Dystrophy Association and spending time with her husband and 3 children.
My dream job would be…owning my own art studio and supporting emerging artists
My first job was… at McDonalds at the age of 15
When I'm not working, you'll find me… spending time with my family and volunteering with the Muscular Dystrophy Association
The best "unknown" restaurant I've been to is… School for the Wise in Victoria
My favorite food is... anything that contains chocolate!
My favorite vacation spot is… Western Europe! Spain and Belgium are 2 of my favorites!
Client Reviews:
In the English language there are hundreds of words that convey the word outstanding but one that is surely missing is Jessica Stephan. Jessica is the epitome of what an outstanding realtor is. From our very first meeting, Jessica has been a trusted resource for us and someone I have come to look on as a friend. From our first meeting, Jessica carefully walked us through her plan for how she would market our house had already done her research on how to price the house and all of the other details that we would need to get ready for the sale. She did everything she could to make us feel comfortable with our decision to move. As the days approached to the listing going live she was regularly checking in with us and once the house had offers (yes there were 9!) she presented them to us and helped us make the most informed decision. Following the offer acceptance through inspection and even after she has been actively checking in with us keeping us informed of all that the move would entail including recommending a contractor for a radon mitigation system we needed to install. We are so incredibly grateful for all she has done and would emphatically recommend her to all of our friends and family who are considering a move!

Tara and Paul Demmer
Jessica was wonderful! She went above and beyond to help us find our home. Great negotiation skills and was there to explain everything thoroughly at every step. I would recommend her to all my friends and family looking to buy or sell their home.

Jill H.
Jessica has been absolutely amazing throughout this entire process and as first-time home buyers went above and beyond when it came to making sure our needs were met and questions we had were answered. We definitely recommend her to those looking to buy a home!

Jacinta E Edrington
Contact Jessica: 612.217.1118  or Email Me