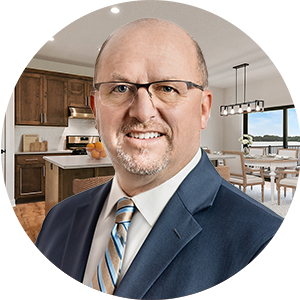 Bill Gilmore
"It's my goal to make the process of buying or selling a home an enjoyable, fun, and hassle-free experience for our clients! Working with the experts on our team allows me to provide our clients with levels of communication, responsiveness, knowledge, and real value that makes us a trusted and valued partner."
---
Bill grew up on the front range of the Rocky Mountains, in Colorado Springs, CO. He was blessed to have had the ultimate playground for a kid – foothills and mountains to hike, ski, camp, and explore. He also enjoyed playing soccer and hockey and it was his dream to play college hockey that brought him back to Minnesota. He attended Bethel University where he earned a Bachelor's of Science in Business Management with minors in Economics and Communication. Bill worked for two Fortune 1000 companies for over 20 years in advertising and marketing communications, where he was responsible for sales growth, leadership development, client satisfaction, and contract negotiation. He has also managed a real estate sales office with more than 80 agents, where he worked with agents and teams to improve their business systems, communications, and prospecting skills to grow their business. It was while doing this that he realized he had a passion for being a Realtor and helping clients achieve their goals. "My goal is to make my client's home buying or selling experience successful, memorable, and fun! The Kerby and Cristina team approach makes it possible!" Bill and his wife, Diane, live in Vadnais Heights. Bill Joined the KC Team in 2017.
My dream job would be… to be a pilot. I love to fly and had a pilot's license years ago.
My first job was… a paper route. My brother and I had 120 clients and delivered to them daily on our bikes.
When I'm not working, you'll find me… hanging out with family and friends, biking, rollerblading, or enjoying our cabin.
The best "unknown" restaurant I've been to is… Nacho Mamma's in Stillwater.
My favorite food is… Popcorn –  I can never resist popcorn!
Favorite vacation spot… Colorado – winter or summer!
Client Reviews:
Bill and his team were a pleasure to work with and I had a great experience in selling my old house and buying my new one! His knowledge of houses and the housing market made the process easy and enjoyable to go through. I would highly recommend working with Bill and the Kerby and Christina team to anyone who is looking to buy or sell their house!
Ryan Wood
We had a great experience working with Bill. He is very knowledgeable and we appreciated his attention to details. Bill provided valuable insight on the market negotiating a price and following up with issues for us to consider. We would highly recommend Bill Gilmore.
Tom Day
We listed our house with Bill Gilmore at Kerby and Cristina... we were impressed with every person on their team. From early photos and stager to office staff and follow through and final paper work. They never missed a beat and made the process smooth and enjoyable. Thank you Kerby and Cristina for assembling an amazing staff. We appreciate each one of you.
Cheryl Mariner
Contact Bill: 651-247-3726  or Email Me