Recently, Bonnie, our Operations Lead, went out for date night dinner with her husband, Latch, at Travail Kitchen & Amusements. This was their first time trying the restaurant, and they had such a phenomenal experience, she asked if they could take over the restaurant review for this month. Here is their review…
Travail Kitchen & Amusements is located in the heart of downtown Robbinsdale. The owners of this restaurant also own the well-known Pig Ate My Pizza restaurant, which is located just a couple buildings down.
We had heard about Travail on several occasions – we had friends tell us it was a must-try and we had also seen it featured on various Food Network shows! This is not just a meal, it's a foodie experience! It is a wee bit more expensive than other restaurants we've reviewed, but so worth it!
First of all, it is good to know that you must purchase a ticketed reservation to dine at Travail. Meal seatings are at 5:00pm and 8:00pm Wednesday-Saturday. Your ticketed dinner reservation includes your meal – a chef's tasting menu of 20+ courses. We purchased a 24-course meal with a 9-drink beverage pairing ($88/person for meal + $77 for drink pairing).
We loved the fact that there was group table seating. We got to make new friends and share the spectacular dining experience… SO FUN! What was even more fun and entertaining was the fact that they plated and prepared all the food right in front of us. We were impressed with how engaging and great the servers & chefs were. This place gets an A+ in regard to ambiance, as they promoted a very welcoming and positive environment.
Now on to the food… the food was made up of dishes with flavors that you've most likely never tasted before, in combinations that seem weird, but are truly delicious. The portions served look small, but we were not able to finish our meal as much as we wanted to (and we can eat an awful lot of food). Special cooking techniques, using different elements not typically used in traditional cooking were demonstrated, producing liquid nitrogen almond ice cream, for example.
Our favorite foods of the night were Compressed Watermelon with Ginger and Balsamic Vinegar, Scallops with 'Shiitake Bacon', and Tamales with Chicharron.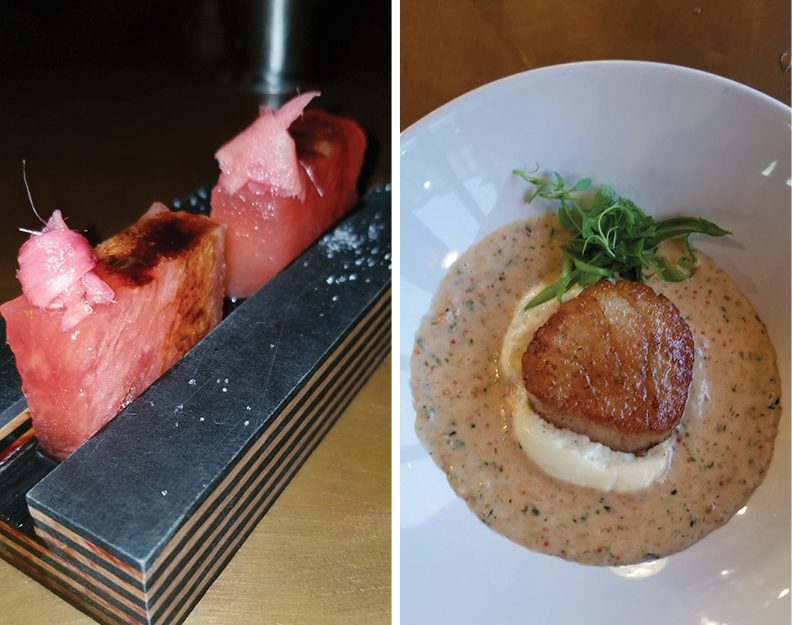 The Compressed Watermelon with Ginger and Balsamic Vinegar was very interesting. They compressed the watermelon, making it denser and more flavorful than your average watermelon. The ginger and balsamic vinegar balanced out the sweetness of the watermelon. It was a combination we had never tasted before and it was amazing!
The Scallops with 'Shiitake Bacon' were cooked perfectly! The shiitake bacon served as an incredibly delicious topper to the scallops. Oddly, somehow the mushrooms did taste like bacon. We were impressed by this dish.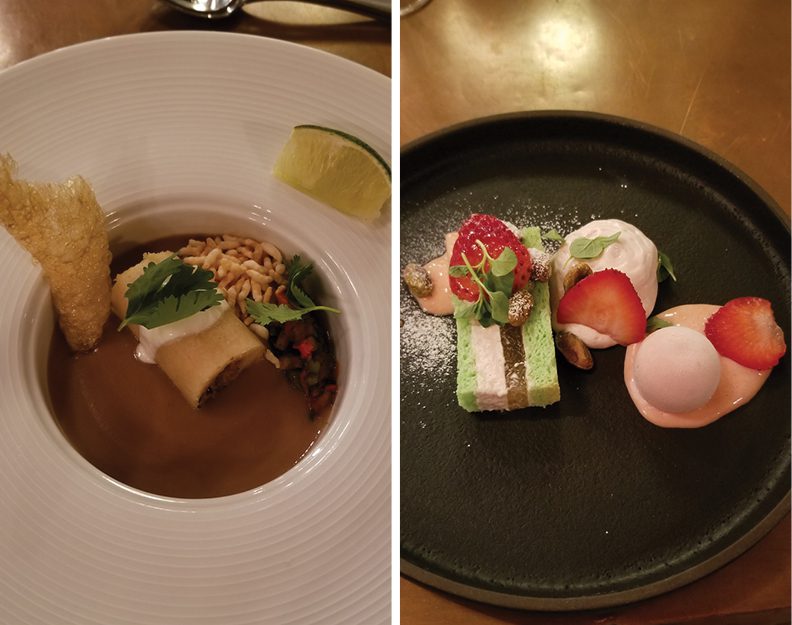 The Tamales with Chicharron were savory and had a ton of flavor. I love chicharron, but this was by far the best I have ever had. The chicharron definitely stole the show for me (over the tamale)!
They end the meal with dessert, bringing out a whole tray of desserts to choose from. This particular evening, the dessert tray included Macaroons, Toffee Bars, Strawberry Shortcake, Tiramisu, and Fudge. We liked everything we tried, but the Strawberry Shortcake was our favorite. There's nothing like a light and fruity dessert to end the night.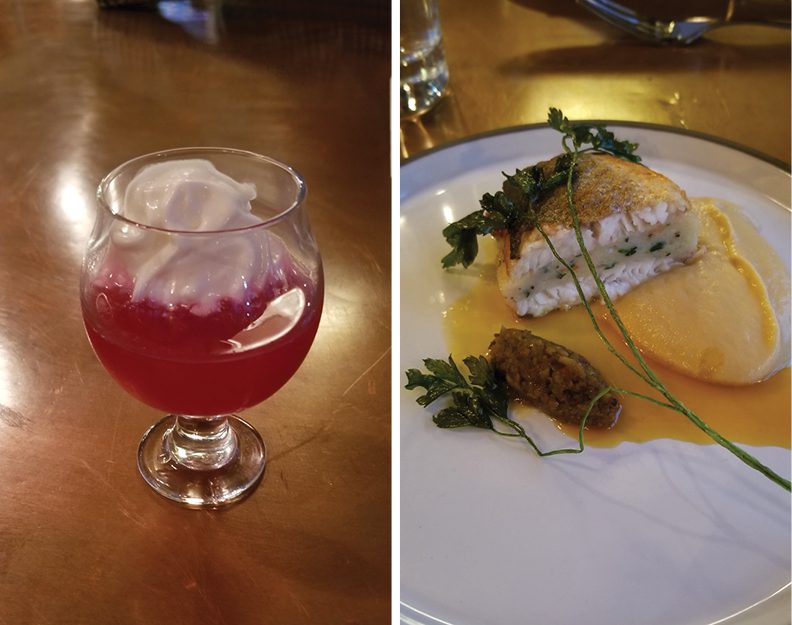 Latch and I shared the 9-drink beverage pairing and it included more than enough alcoholic beverages for both of us. It included a mixture of fancy cocktails, beer, and wine. What's really neat is that they give you the drink recipes, so you can recreate them at home.
Our favorite drink was the Beet Cocktail with Goat Cheese Whip. We thought this drink might be "too earthy" of a combination for us, but it was great! I usually don't like beets, but the beet flavor was very subtle and didn't taste like the ground at all… ha ha! The goat cheese whip topper really sealed the deal… super light and fluffy.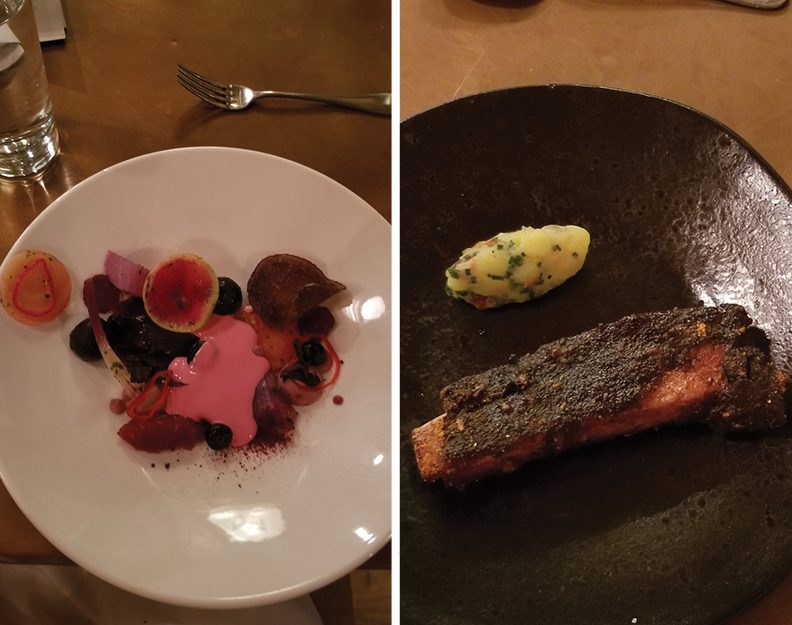 Fun fact: We learned that Travail will eventually be moving to a beautiful, newly-constructed space (right across the street). This will be a two-story space that will include a rooftop patio overlooking the city. It sounds like this already fantastic place will be getting even better real soon!
We will for sure be going back again. Just one more fun fact… Travail's menu is always changing based on the season and products available, so you are guaranteed a different experience each visit. We recommend you try it at least once!
Travail Star Ratings


Food:

5




Atmosphere:

5




Price:

5 (pricey, but worth it)




Overall:

5

!
Travail Kitchen & Amusements
4124 W Broadway Ave, Robbinsdale, MN 55422
(763) 535-1131
www.travailkitchen.com