Red cow's website says " Handcrafted burgers. And a whole lot more." And I'd have to agree, the menu has a nice variety of options. We'd heard a lot about Red Cow, and since they've expanded to Uptown and we wanted to take a walk around the lakes, Cristina and I decided this would be the perfect place to finally check out for date night.
The Uptown location has an outdoor patio that is large (and dog-friendly, for those of you interested in bringing your furry friend). We were immediately seated by a host that provided us with a number of recommendations and then told us our server would be right with us. It was nice to have the host give his opinion on the menu.
When we go out for dinner (especially when we know we are going to share a review), we always order several dishes so 1) we have leftovers for lunch the next day and 2) we can get a clear picture of all the place we're trying out has to offer.
We know their focus is "gourmet burgers, craft beers, and fine wine", and we've heard nothing but raving reviews about those items from friends and family (and we can vouch for them all looking incredible when the server walked past our table with other orders). We trust that their reviews are accurate, and instead decided to try some of the other menu items that sounded deliciously interesting to us.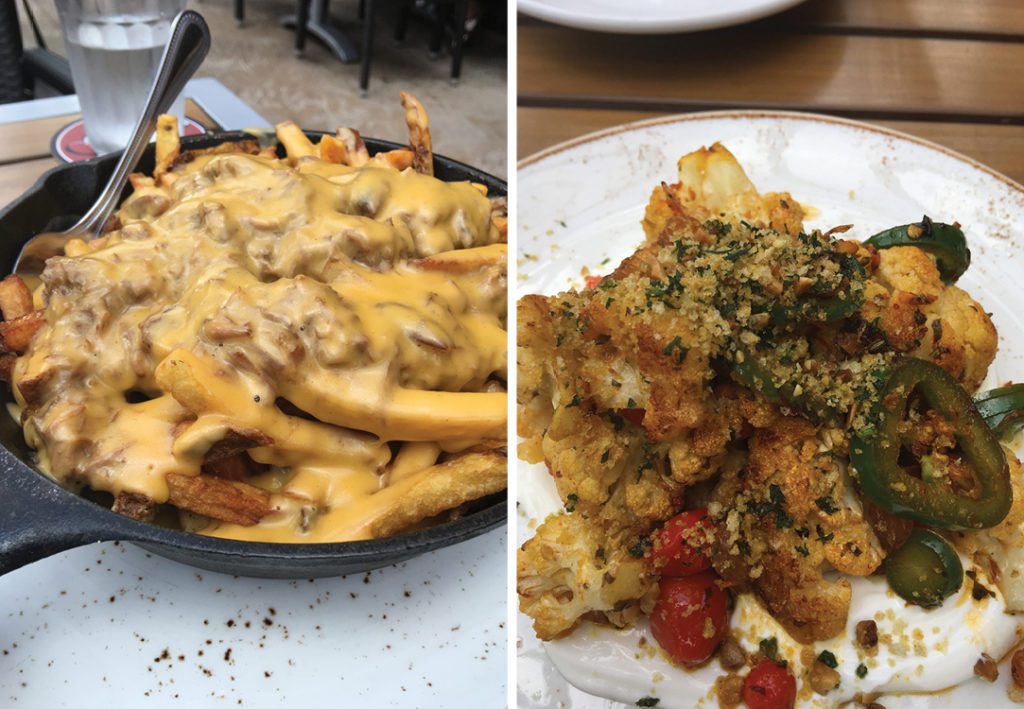 When it comes to food, I'm a total sucker for fries… and if you put gravy on anything, it is better, so I ordered the Poutines from the "Shareables Menu". The Poutines consist of braised beef & Summit beer cheese. I have to say, they definitely didn't disappoint. In fact, the beef was perfect and the cheese provided a solid kick to get us started!
The server gave us the idea of getting a little "health food" to enjoy with our Poutines, so I ordered the Cauliflower, which was actually pretty awesome as well! It is another appetizer that has some spice and is served with a nice cream sauce base. It was a good pairing to slow down the flow of the grease and carbs that hit us with the yummy Poutines… haha!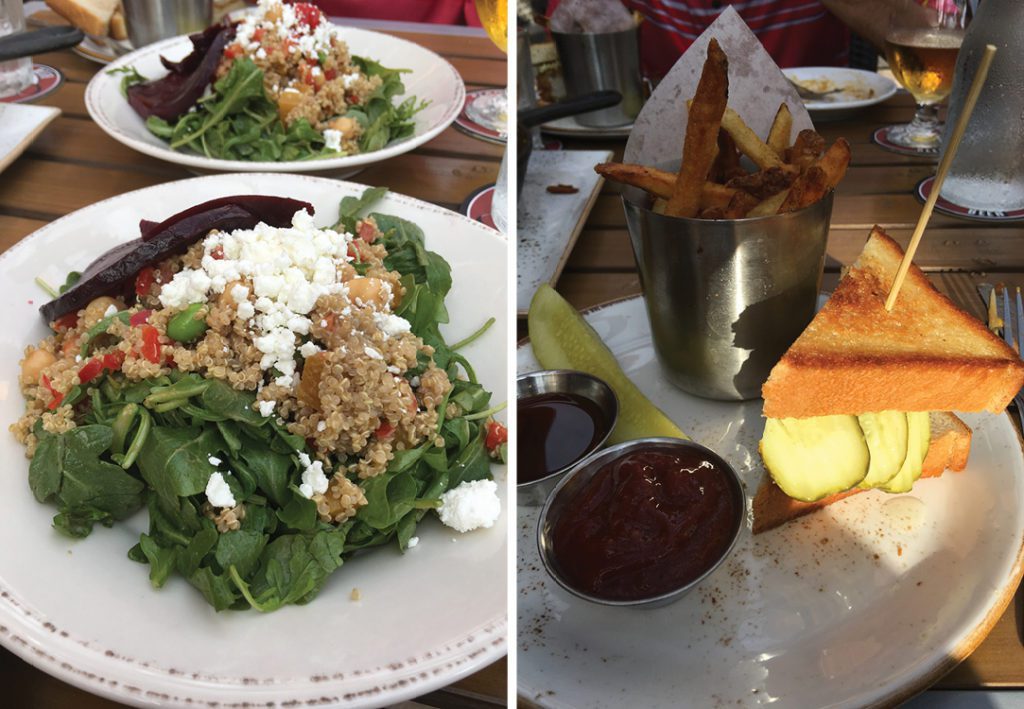 Cristina is a health conscious and wanted a salad, so we got the Beet & Quinoa Salad, which is gluten free (FYI). It is roasted red and golden beets with arugula, quinoa, edamame, red peppers, garbanzo beans, tossed with a balsamic vinaigrette, and then, topped with chevre cheese and a bit of balsamic reduction. This was AMAZING, one we'd both order again. It had a great combination of flavors and was healthy and light-feeling yet filling at the same time.
For our "main course" (as if we didn't already eat enough), we had the Tennessee Hot Chicken Sandwich, which is available "MN Nice without spice". We got the spice on the side. This is a fantastic southern fried chicken with hot sauce, mayo, and dill pickles. This sandwich was GREAT! I would have preferred to have it SPICY! with the sauce right on it, but Cristina preferred it on the side. It was still good, of course, but I think having them put the sauce all over the chicken would have been the ticket.
Overall, it is worth your time to hit up Red Cow. We were quite impressed and will go back! Next time, we will save some room for dessert!
Red Cow Uptown Star Ratings
Food: 4.5
Atmosphere: 4.5
Price: 4.5
Overall: 4.5
2626 Hennepin Ave, Minneapolis, MN 55408
(612) 767-3547
www.redcowmn.com