Our Operations Lead, Bonnie, is on a fantastic foodie sweep across the Metro! This time, she was surprised by her husband, Latch, with a birthday reservation to Martina in the Linden Hills neighborhood of Minneapolis. Here's their review…
I'd been wanting to try Martina for quite some time, so I was really excited when my husband told me he made a reservation to go there for my birthday. This was quite the birthday gift, as it is now one of my absolute favorite restaurants!
The restaurant is beautifully and somewhat simply decorated with a style that I will call "rustic glam".  The dim lighting, in combination with darker wood tables and floors, bring warmth to an otherwise mostly white space.
Our server was great – she was very attentive and provided quick, friendly, and knowledgeable service.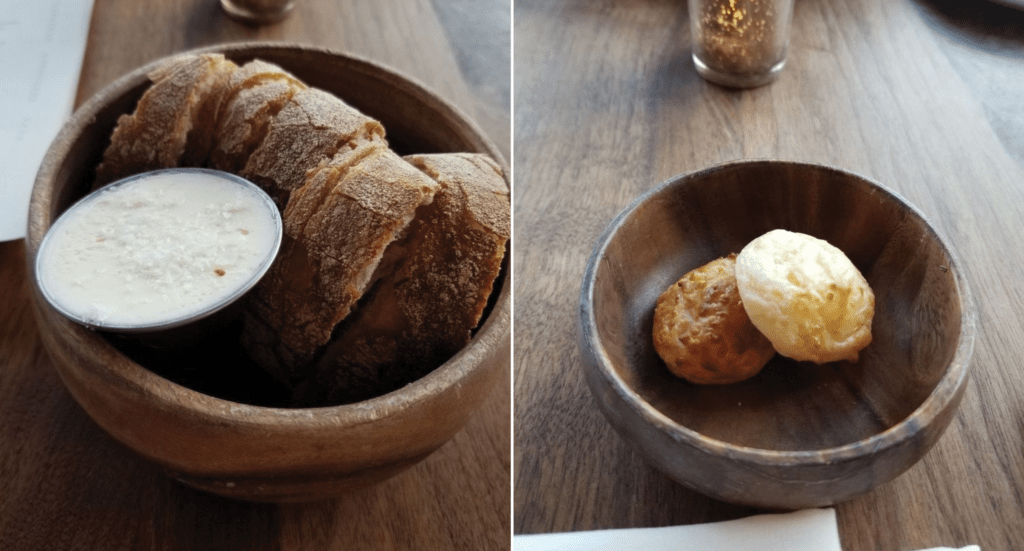 My husband and I tend to order a lot of food when we go out and we definitely didn't hold back here! First, we were served a basket of Bread & Butter. The bread was super crunchy on the outside and warm and soft on the inside – so good! We were also served little Parmesan Biscuits. I'm generally not a big fan of cheese, but these were a delicious exception!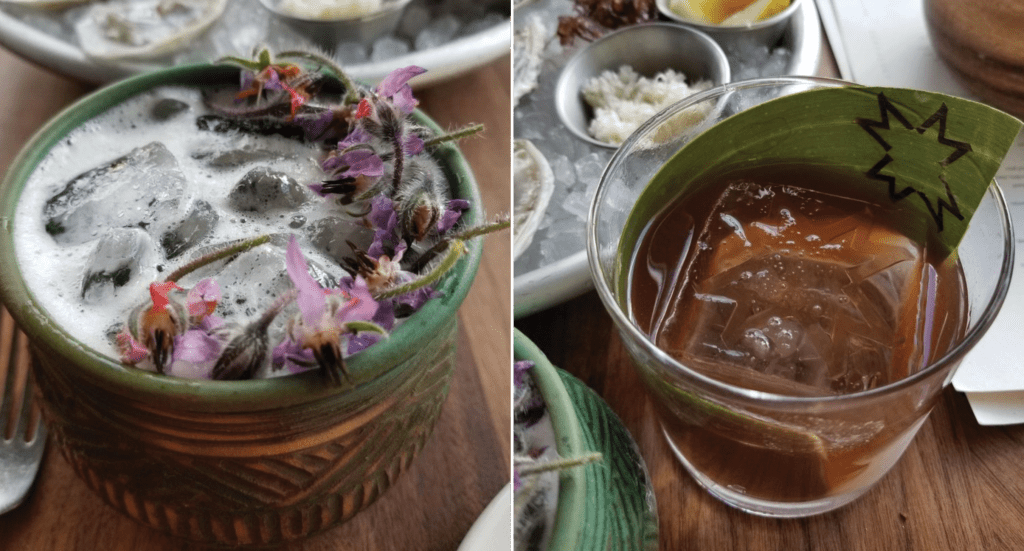 I ordered the Viceroy (cachaca, togarashi, mango pineapple, lime) which has got to be the most BEAUTIFUL and tasty cocktail I have ever consumed. It tasted like juice, but was pretty strong. It was a refreshing drink and was garnished beautifully. My husband had the Martina Old Fashioned (kill devil rum, banana, aromatic bitters). He thought it was a good cocktail, but wasn't in love with it, as he felt it didn't have the kick that Old Fashioneds typically do. However, he was beyond impressed with the presentation.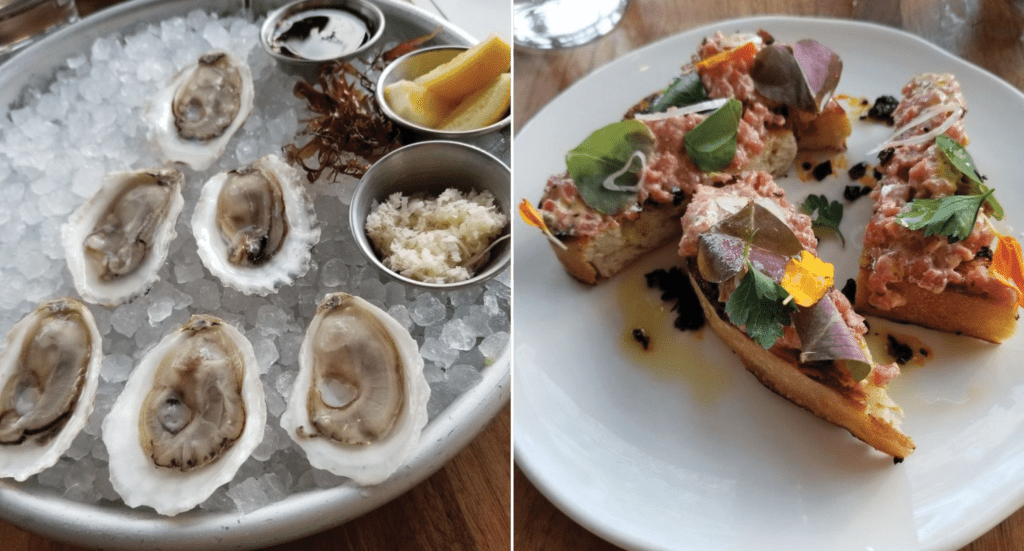 For appetizers, we ordered half a dozen West Coast Oysters. I'm happy to report that 6/6 Oysters were SUPER fresh! We wanted to order more, but decided to hold off because of all the other food we had ordered. We also got the Beef Tartare Special. This too was beautiful, and the flavors were so delicate. I would highly recommend getting this if it's available!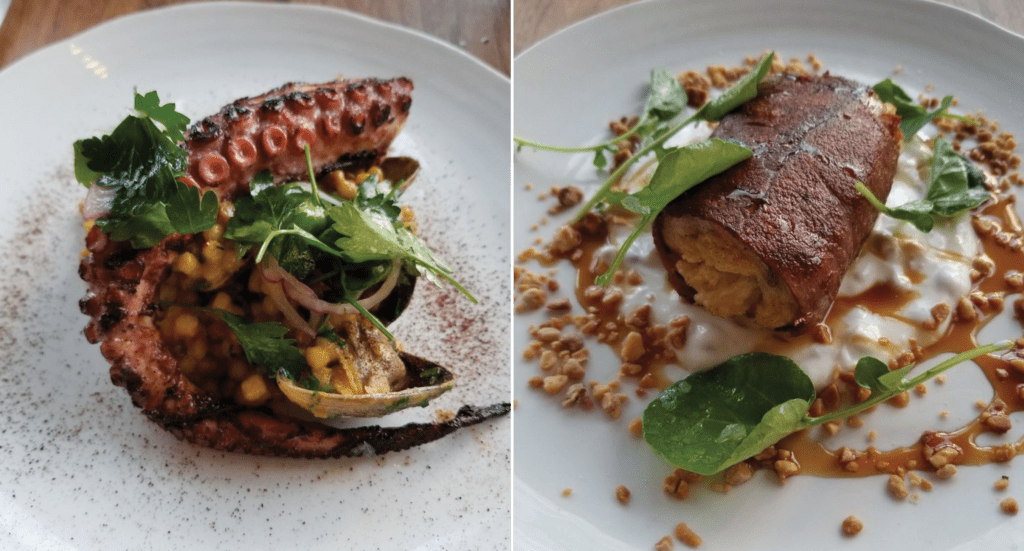 For the main course, Latch ordered the Grilled Octopus with Clams. As you might now expect to hear, this meal was also plated beautifully, and the colors were so gorgeous! I don't think I've ever eaten something so pretty in my life!! Not only did it look wonderful, it also tasted wonderful. The Octopus was cooked to PERFECTION, not too chewy or too rubbery. The combination of the clams, fregola, turmeric, and parsley played so well together. My palate was definitely happy after trying this dish!
I ordered the Stuffed Whole Trout with snow crab, prosciutto, watercress, almond, yogurt, and honey. This dish was definitely tasty, but I wasn't blown away by it like I was with the Grilled Octopus. The salty prosciutto balanced out the blander trout/snow crab mixture from the inside. There were interesting flavors, but I wished I would have selected another dish. Next time!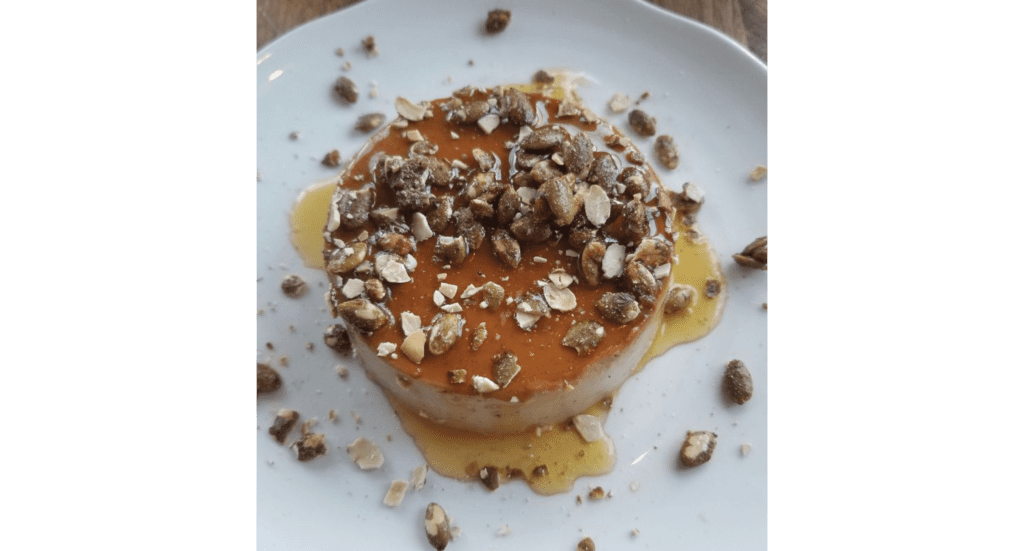 For dessert, we shared the Flan... if I see flan on the menu, I always get it, but this was SO different from what I'm used to, in a good way. It was AMAZING! There was a spice in it that I couldn't put my finger on (maybe cardamom), but it was SO GOOD. This is a must order!!
I can't wait to go back to try more of their amazing dishes! I highly recommend you give Martina a shot!
Martina Star Ratings
Food: 5/5
Atmosphere: 5/5
Price: 5/5
Overall: 5/5
4312 South Upton Ave, Minneapolis, MN 55410
(612) 922-9913
www.martinarestaurant.com