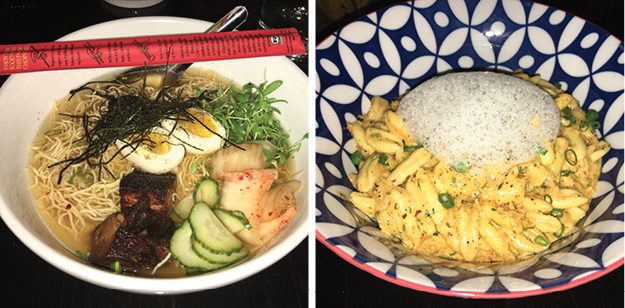 No joke, Tongue in Cheek is a place worth checking out. Located in St. Paul, this restaurant is sure to excite your senses. Tongue in Cheek has a wonderful low-lit ambiance. Upon entering, you will find yourself surrounded by cool contemporary style art. The staff is upbeat and their great service makes for a very welcoming dining experience.
The friendly staff serves up dishes that are appealing to both the eyes and stomach. The reasonable prices are also appealing. Fun and somewhat catchy menu item names, help to set an easygoing mood.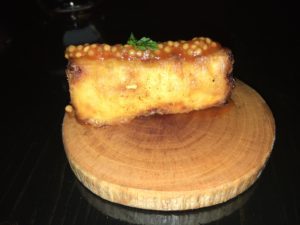 Is it a little late for breakfast, but a little early for lunch? Why not brunch? Brunch is served five days a week at Tongue in Cheek. Weekday brunch (Wednesday through Friday) runs from 11am to 2pm and weekend brunch (Saturday and Sunday) from 10am to 2pm. Bring the family in and spare yourself the responsibility of cooking and dishwashing. Everyone deserves a break! Plus, doesn't food taste better when someone else makes it?
Dinner is served Tuesday through Sunday. From appetizers, to entrees, to desserts, there is something on the menu for every guest. We were pleased to see that there were a variety of vegan options available.
Of course, we couldn't write a review without trying some popular menu items ourselves. For starters, we tried the Crispy Feta. The spice was nice, as was the salty flare. Moving on to the entrees, the Ramen certainly receives our recommendation! It had just the right mix of flavors, tasty bacon (more like a pork chop), and the seaweed added a delightful touch. The Mac and Cheese was another menu item that was bursting with flavor. The noodles were absolutely amazing in both texture and taste. It is safe to say that you won't go hungry with the healthy portion size that is served. Upon recommendation by a fellow patron, we ordered the "Ode to the Dome" for dessert. That turned out to be a very fine idea. The buttermilk was tart, but broke up the sweet. The dessert was made with amazing chocolate, a hint of peanut butter, and ice cream under the dome. The serving size was perfect (not too big, not too small) and the presentation was exceptional.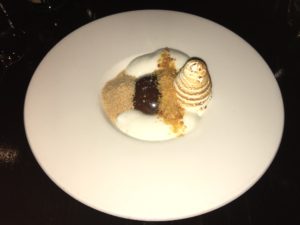 Maybe you just need a laid-back spot to have a round of drinks with friends. No problem! Tongue in Cheek has a very solid drink list, including wine, cocktails, and beer (NA options available). There are happy hour specials daily from 4pm to 7pm. If the bar could talk, it'd definitely say, "Come in, sit back, and relax."
This place seems to have everything covered! For the planners out there, there is an online reservation option. And not to worry, there is convenient lot parking behind the building (Jenks Avenue). The restaurant owners pride themselves on being devoted to using animal products that are raised or caught in a humane and sustainable manner. Tongue in Cheek was named "NDC Biz of the year" in 2015.