The Lynhall… New, but Not Quite Ready…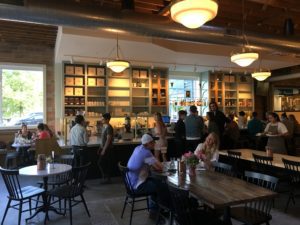 We were pretty excited to check out this brand-new restaurant in Minneapolis. Don't let the title completely discourage you – the reviews on Facebook show that many people were very happy with their first experience at Lynhall. It is new and we know that it can take a bit for everything to come together and for businesses to focus in on what they are really good at, but we always give an honest review from our experience.
So first, the good stuff… The ambience was absolutely amazing! We found the design to be exquisite. The open environment made the space feel very warm and welcoming. They excelled at food presentation. The manager was very friendly and was mingling with guests.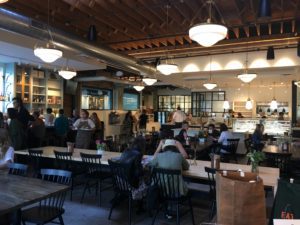 And the not so good… There was no defined process on how to order, making you feel very lost on what to do when you get there. There is no one saying, "How can I help you?" The register is set up weird and off to the side – there is no "flow" to the space on how to get in, where to go, or who to order from. Their menu is "cute", but doesn't make sense from an ordering perspective. The clipboard-style of the menu made it hard to maneuver. The servers didn't seem to know the menu very well and they looked overwhelmed and busy, even though it wasn't very busy.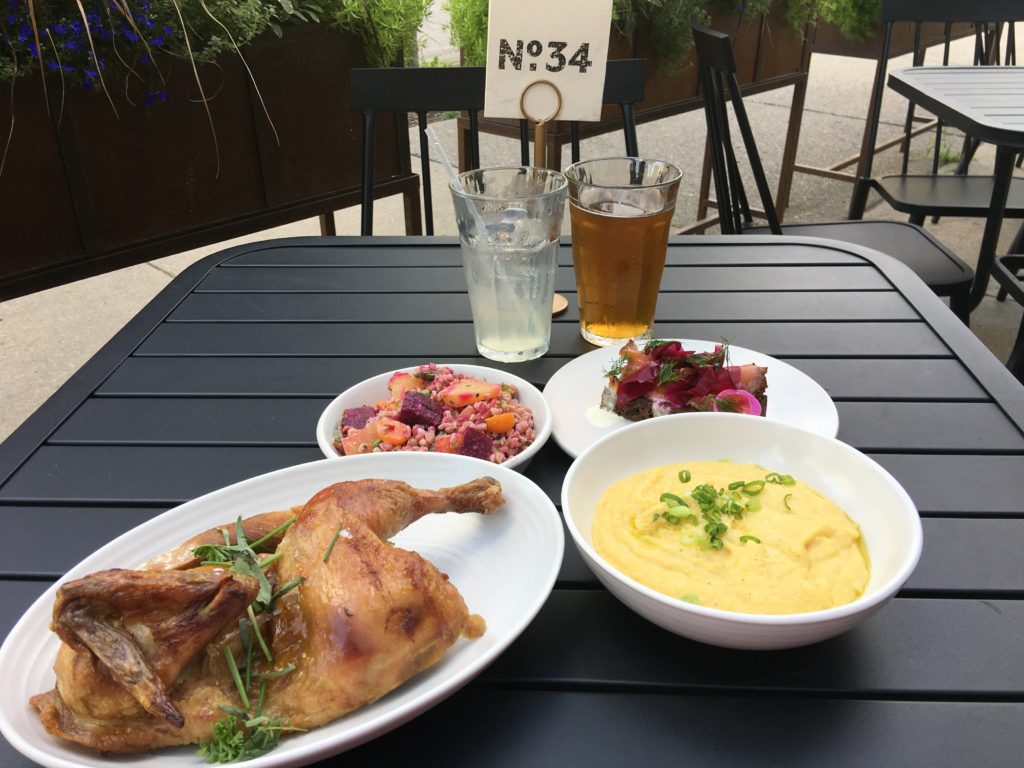 When it came to the food, we thought that overall, the prices were just too high. For example, it was $15 for a ½ rotisserie chicken that was maybe free range, but at that price, we expected a better taste. The "Open-Faced Coffee Rye", which is a salmon pastrami sandwich, was a nice idea, but for $13, I was expecting to get a little fuller. When we ordered, we asked the server if it would be enough and she said, "FOR SURE!" …it wasn't. The salads were reasonably priced and tasty!
We always try a variety of items when we are doing our restaurant reviews.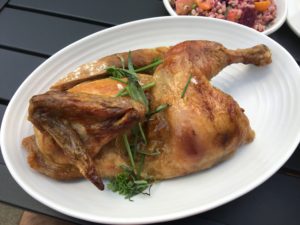 We tried the Rotisserie Chicken. It had pretty good flavor, but was a little dry and there really wasn't anything "signature" about it, unfortunately.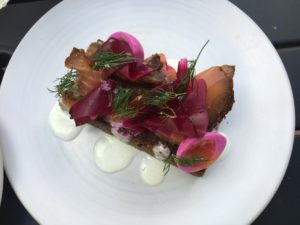 Next, we tried the Open-Faced Coffee Rye. The quail egg was cute, but overall it was a small sandwich for the money. I would cut the expense of quail eggs and instead serve the client more food. If that was all we ordered as a single person, we'd have to walk to 28th and Lyndale to get "full" at Subway!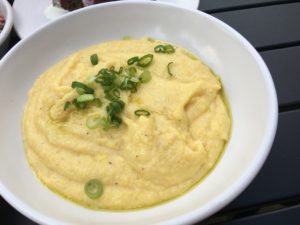 The Polenta was like mashed potatoes and grits… delicious! It was definitely the best thing we had – we would recommend that!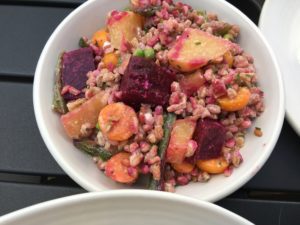 The Beet Farro Salad was decent. It had golden beets, snap peas, and goat cheese. There really were lots of good flavors and Cristina really liked the dish.
Star Ratings:
Food: 3
Atmosphere: 5
Price: 3.5
Overall Experience: 3.5
2640 Lyndale Ave South Minneapolis, MN 55408