The office support team (Melissa, Bonnie, Angela, and I) stepped up (no convincing needed) and picked a new-to-us restaurant to review for the March review (win-win!). We decided to try The Kenwood and we couldn't agree more, the restaurant is both "refined and welcoming" just like their website states.
The Kenwood is in Minneapolis, about nine miles away from our Plymouth office, which was super convenient, considering that we left work for an hour lunch. The drive over was BEAUTIFUL – a car full of real estate ladies could not help but notice the gorgeous homes near Kenwood Park and Lake of the Isles.
Before I share our thoughts on the restaurant and food, I have to mention that Bonnie and Angela are total foodies, and in the kindest way possible… can be somewhat critical when it comes to trying new food at new places. This place received an all-around 5-star rating from the four of us! We loved everything about the place and almost immediately talked about how we'd be bringing others to enjoy it in the near future.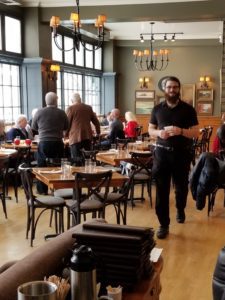 On that note, the ambiance… aww-mazing! The restaurant is quaint, naturally well-lit (large, beautiful windows line one entire side of the restaurant), decorated with simplicity in mind (vintage charm mixed with a modern touch). They have beautiful wooden tables throughout.
The kitchen is open to the rest of the restaurant and it was neat to see the staff at work. It was also nice to see just how clean the food prep area was (something I always notice, having managed a restaurant for almost ten years).
We were greeted and seated immediately by a very kind server. I don't think that I saw anyone working who didn't have a smile on their face. They were all very busy, but it was very evident that they enjoyed their jobs. The service was phenomenal throughout the meal. Service was quick, but not with a fast food type of feel. It was "gourmet" food with fast service.
The menu is fun and has an almost unexpected variety for a weekday lunch. We were impressed with the presentation of all the food. They made the simplest plates look pretty. All the meals we ordered were generously portioned, at a price that we thought was fair.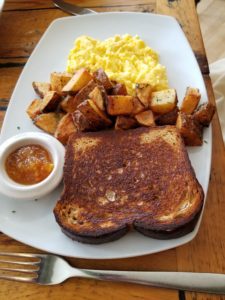 Melissa is a lover of brunch, so she took advantage of having that available on the menu at the 12:00pm hour. She ordered the Simple Breakfast (two eggs, bacon, and toast). The eggs were perfectly prepared to her desired texture – slightly scrambled, not too dry. The Orange Marmalade that came with the toast (very thick toast) was scrumptious. Melissa commented, "It might look like your everyday breakfast, but it is honestly some of the best-tasting breakfast food I've ever eaten."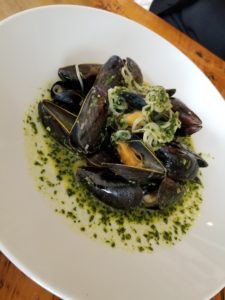 Bonnie ordered the Mussels in Pistou Broth (with a side of Fries). She loved the mussels. They were cooked to perfection, not chewy. The sauce was light and creamy, but very flavorful with a kick of pesto. Bonnie commented, "I'd say this was definitely one of the best mussel dishes I've ever had. I thought having fries on the side was a different approach. Usually, mussels are served with bread, which I would have loved because then I could have had more of the sauce! I will definitely be going back for the mussels and squash soup."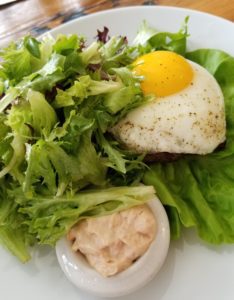 Angela tried the Kenwood Burger (pork belly, gruyere, and fried egg). The burger was exceptionally juicy, and the pork belly addition was a rich, flavorful surprise with a hint of sweetness. Angela commented, "My food was excellent, and it was clear that all our dishes were made with fresh, high quality ingredients."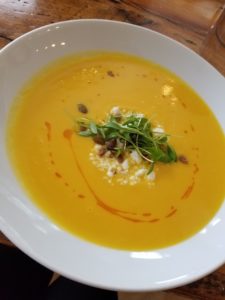 I ordered the Squash Soup (squash, queso fresco, chili oil, and cilantro). It was absolutely incredible! I was glad that I ordered the bowl as opposed to the cup. The other gals tried the soup and we agreed this might be our overall menu favorite (we will have to go back and try everything else to be certain though, of course – haha!).
It was a perfect thickness – not too thick, but not watery. The touch of cream was perfect. I LOVE cilantro, so the extra cilantro on top was much appreciated. I also ordered a side plate of Mixed Greens with Pear Vinaigrette… so simple, yet so delicious.
The Kenwood is a must-try restaurant!
The Kenwood Star Ratings
Food: 5
Atmosphere: 5
Price: 5
Overall: 5
The Kenwood
2115 W 21st St, Minneapolis, MN 55405
www.thekenwoodrestaurant.com