As many of you know, Cristina and I try to break away once every two weeks to enjoy a date night, just the two of us (always needed, especially with a fourth baby on the way!). We had recently come across a write-up about Jimmy's Restaurant and Bar in "Lake Minnetonka Magazine". What we read was enough to spark our interest and we decided to check it out. The restaurant is off of HWY 62 and east of 494 in Minnetonka. We made a reservation on their website, which was both easy and convenient. When we got there, we were greeted by a very kind hostess, who immediately seated us. The restaurant was quite busy. Noticeably, there were people meeting for business, a few couples on dates, families, two large groups of friends laughing, and a group of construction workers. The restaurant was very nicely-decorated, and the wait staff was professionally-dressed, but it didn't feel stuffy at all – it felt warm and welcoming for all guests, yet classy enough for a special occasion.
The drink menu was reasonable, and the food menu was nicely done. They have all price points, as well as a nice selection of fish, chicken, pork, and steak. They also offer pasta and burgers. There was variety, which is always nice, but not too many options – that made me feel like no matter what we ordered, we could be pretty certain that it would be good.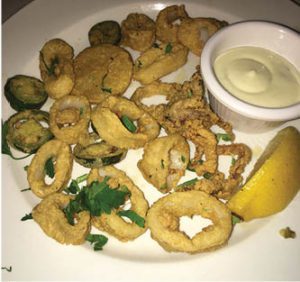 To start things off, we ordered the Spicy Fried Calamari appetizer.
We ordered the smaller portion, which was sized well for two people. Overall, this plate was pretty legit. We really enjoyed the flavor of the lemon basil aioli. We felt like it could have been a little spicier, but it was still great.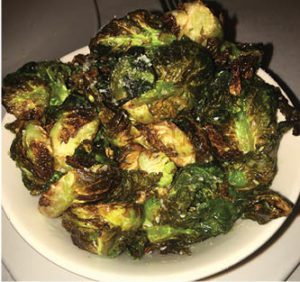 We also ordered the Brussels Sprouts appetizer.
These things were prepared perfectly! They were crispy on the outside and tender in the middle. They had a fabulous olive oil flavor. The hit of parmesan and spices were right on.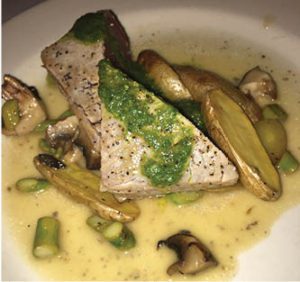 For the main course, I had the Seared Ahi Tuna.
This was a very good cut of meat. I personally LOVE raw fish (sushi) and order it often when we go out. In comparison to what I have tried in the past, I felt this was a VERY good selection. The garlic and white wine sauce was exceptional. I wasn't a big fan of the fingerling potatoes that were served with the meal.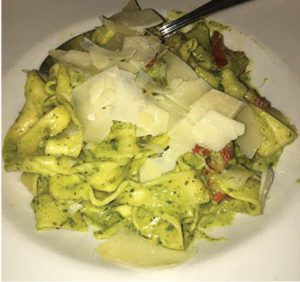 Cristina had their Pesto Pappardelle and she thought it was amazing.
It's homemade and had a great texture. There's nothing like fresh pesto sauce with sundried tomatoes and large, freshly-shaved slices of parmesan cheese. The portion was huge, so she had enough left over for another meal! Anyone who knows Cristina, knows she loves good leftovers ready to go for work the next day!
As simple as this note is, their fresh, steaming hot, whole wheat bread and creamy butter were a delicious starter while we waited for our food!
The staff was nice and helpful throughout our meal. We were seated closer to the kitchen, making us very aware of just how hard the food runners were working.
We would definitely go back to try some more of their menu and we certainly recommend you give Jimmy's a shot if you are in the area.
Jimmy's Kitchen and Bar Star Ratings
Food: 4.5
Atmosphere: 5
Price: 4
Overall: 4.5
Jimmy's Kitchen and Bar
11000 Red Circle Drive, Minnetonka, MN 55343
jimmysmn.com