We Agree, Handsome Hog is the "Real Deal"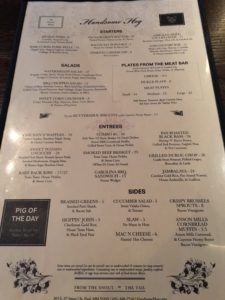 This month for our restaurant review, we decided we needed to finally get over to Handsome Hog, as we had heard very good things about the restaurant from friends, including our next-door neighbor's son, who is a server there.
The restaurant is located in a great part of downtown St. Paul, close to CHS Field. It is surrounded by a number of other cool, new bars in that area as well. There is no designated parking, but there was plenty of street parking the night we checked it out.
We cannot say enough good things about the ambiance. The restaurant is situated in a very neat, old building with a really cool bar area inside. It feels intimate and there are two entrances to the place, front (on street) and back (through building). Seating is classy, featuring leather booths with dark wood for the table. The restaurant promoted a friendly environment with lots of people talking and laughing (which is both welcoming and fun).
Like I mentioned before, one of the main reasons we chose to try Handsome Hog was because our neighbor's son works there and he said it was the "real deal." The server we got wasn't him, but it was another great server and she was awesome. She made good recommendations and had a great vibe to her.
Now onto the food…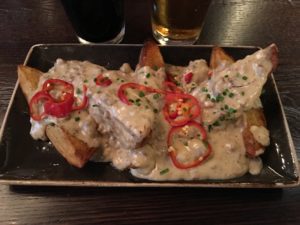 The server HIGHLY recommended the Sausage Gravy Poutine (Pickled Fresno, Cheese Curds, and Chives), so of course, this was the first item we ordered. We couldn't have agreed more with her recommendation – it was LEGIT! It is like big potato wedges with amazing gravy slathered all over them. (Getting hungry, aren't you!?) She said we should get the hot sauce to go on it and that was also a great idea. "Worth sweating for," in her words!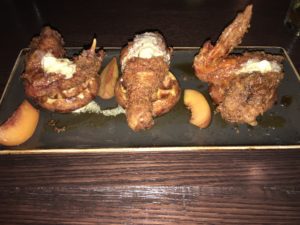 For the main course, I had Chicken N' Waffles (Pickled Peaches, Bourbon Maple Syrup, and Honey Cayenne Butter). And again, LEGIT! The chicken was fried to perfection and was VERY delicious. Cristina even ate the chicken skin and she NEVER does that.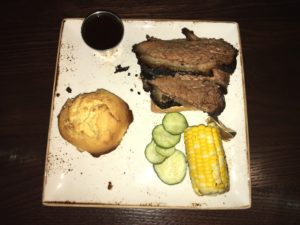 Cristina had Smoked Beef Brisket (Texas Toast, House Pickles, and Sweet Corn). This one was awesome! I have a buddy, originally from Texas, whom we helped find a home for in Golden Valley. He had a BBQ Brisket feed at his house one day and his was absolutely amazing! Being a native of Texas, he knows how to do it and it was REALLY good. This was just as good as our client's BBQ Brisket. I can't say it is better, but it was VERY good.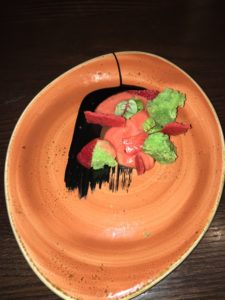 The only thing lacking was the dessert. We tried the "Enchanted Chocolate Bog", a basil cake with chocolate fudge. It was $8.00 and it was quite petite. When they brought it out, I thought they forgot part of it! I would probably go with something else or just skip dessert in the future, but the rest of the meal was top-notch!
Cristina and I HIGHLY recommend this place – the food, the service, and the ambiance – all impressive.
If you want to refer us to a restaurant to review or you'd like to learn more about this unique restaurant or other great features of the West Metro, give us a call at 612-444-1100 or visit us at www.kerbyandcristina.com. We'd be happy to tell you more about all this area has to offer!
Star Ratings:
Food: 5
Atmosphere: 4.5
Price: 4.5
Overall Experience: 4.5
203 E. 6th Street – St. Paul, MN
http://handsomehog.com/