Like last month, we strayed from our typical Wednesday date night dinner. We got the family all dressed up the week before Christmas – the girls in their dresses, the boy in his tie, mama in her dress, and me in my suit – and we headed to a new restaurant (well, new to us) that we have heard a lot of good things about. Getting out to dinner with 3 kids is wild, but we made it through and have stories to tell about it!
We appreciated the ambiance at Birch's on the Lake in Long Lake. We thought it was a nice place overall, and think it would be especially amazing to enjoy dinner on the patio overlooking the lake on a warm summer evening. It was dimly lit inside, but had a fireplace, which was AWESOME!! We were seated right by the window and had a great view of the lake. The pub in the basement was reserved for a private event, so we couldn't check that out. The bar area gave off a fun vibe, and there were a number of what looked to be "regulars" sitting at the bar laughing and joking with the bartender, making it a very welcoming place.
And what we really went for, the food…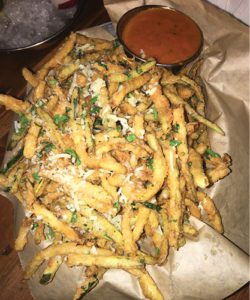 We started off with the Zucchini Fries starter plate and they had an exceptionally tasty "marinara" ketchup of sorts that I could have drank (seriously, that good!). They were cooked well and were far better than regular French fries (which came with the kid's chicken strips, not pictured).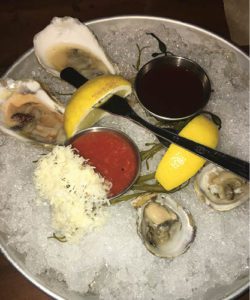 I got Fresh Oysters because I really like them (Cristina not so much) and they were also very good. I couldn't tell which was better, East Coast or West Coast, but the horseradish was shaved to perfection and in an incredible cocktail sauce that I dipped the zucchini fries in as well (shhhh…)!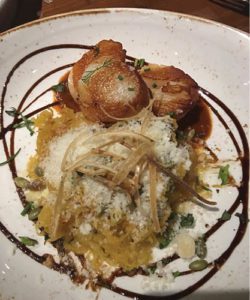 The main course for me was the Seared Jumbo Sea Scallops, which were exceptional! They came with a spaghetti squash and had a sauce that did not disappoint! Cristina wasn't feeling very hungry, so she opted for a side as her main dish, the amazing Mac & Cheese Gratin. It was delicious, fried on the outside with a delicious crispiness, but creamy on the inside, with peas and pancetta adding just the right flavor. It was definitely filling, so much so, she couldn't finish it all.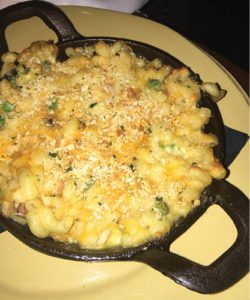 The kids enjoyed the Mac & Cheese Gratin, as well as the Chicken Fingers. They were all smiles, so we will take that as they were kid-approved!
Unfortunately (or fortunately, depending on how you look at it), the portions were so large that we skipped dessert, but their dessert menu had a variety of choices and everything sounded great!
Birch's on the Lake Star Ratings
Food: 4.5
Atmosphere: 5
Price: 3.5
Overall: 4
Birch's on the Lake
1310 W Wayzata Blvd, Long Lake, MN
www.birchsonthelake.com/