On a recent Sunday, we had the privilege of being invited to Jax Café for brunch by our neighbor. Our neighbor is the manager there and a total standup guy (more on that in a bit), but because Jax is a family business and an amazing pillar in the Northeast Minneapolis community, we wanted to feature it this month as our "Restaurant Review".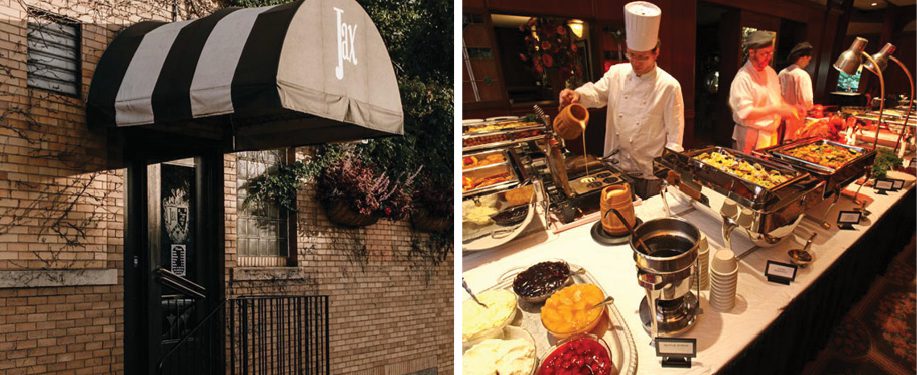 We showed up after church at about 11:30am and the brunch had been going about an hour and a half at that point. Their hours are 10am-3pm on Sundays. They have a FULL selection of amazing dishes. I started off with the cold table selections, trying some poached salmon, marinated vegetables, and chicken salad. All of it was exceptional. We had the kids with us and there were a few solid items on the cold table that our kids could select from that matched their pallets, as well as sweets such as caramel rolls and assorted muffins.
When I go to brunches, I really try to "warm up" with the salads, but I save my "grand finale" for the hot table… in this case, I probably did a "super grand finale"! They have made-to-order omelets, eggs benedict (AMAZING!), a carved meat station of oven roasted turkey breast and prime rib, and a potato selection that was better than grandma's secret potatoes (don't tell grandma!).
For my "super, duper grand finale", I hit the Irish cream chocolate cake. Jax has their own baker and she handcrafts all the brunch dessert selections each week. It was a sight to behold and the cake was worth the trip alone. Phenomenal!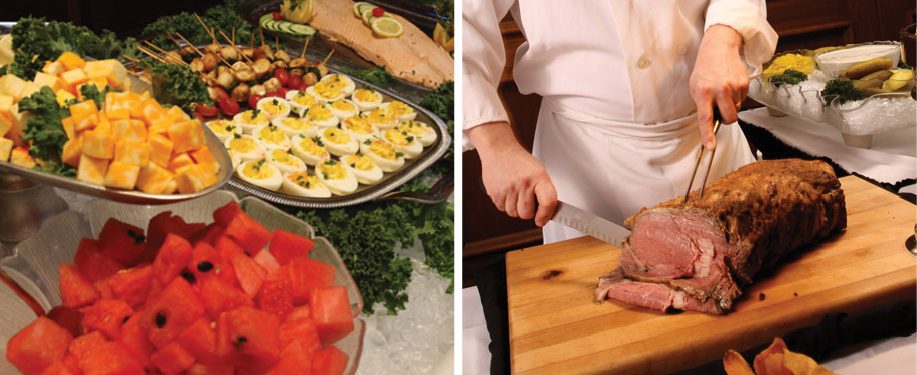 We have nothing but great things to say about Jax and the experience. After I left that day, I posted a review on my Facebook wall about what happened there that day and I'd like to share that in closing. The food was great, the management team even better. Check it out the next time you're in the area.
"It isn't every day you get to see 100% class in action… Cristina and I had the honor of hitting the Jax Cafe brunch (Jax has been in business 85 years). Our neighbor is the manager at Jax in Northeast and him and his wife (and daughters) asked us to come in. The food is fabulous, but you know why businesses last? It's relationships, it's caring more about the people than the profits, it's about being a guy that does right by the clients… it's about valuing the team… I saw it firsthand today. It wasn't JUST a good meal, it was a life lesson. He lives out what a business man, a manager, and a leader should be. He's spent 22 years managing the business and treating it like he's the owner… 22 years giving the client the service they deserve… 22 years loving people and making sure his team is treated the right way. It was genuine, it was real, it was noticed, and it was seriously a beautiful thing to watch. It's days like today that you sit back and go, "WOW!" You see the masters at their craft on the court, course, or field… it isn't every day you get to see them in real life. Cristina and I got to see that today… in the small stuff… the day-to-day guest interactions… the kindness he extended to the team members. I know the Masters is on (I don't watch golf), but I saw my own version of "The Masters" today… he won it today… what he did today is what makes a guy world-class. My hat off you to you, sir. What an honor to watch a master in action, seriously."
Jax Café Star Ratings
Food: 5
Atmosphere: 5
Price: 5
Overall: 5
Jax Café
1928 University Ave NE – Minneapolis, MN 55418
612-789-7297
www.jaxcafe.com