Real Estate Agents Plymouth MN
We help homeowners discover their future property throughout Plymouth, MN. There are so many factors to consider. Whether it's choosing the actual house, finding a home with the right specifications and qualities, or determining the realistic price range you can manage — our real estate agents can help. We know that buyer's remorse is all too common, and we go above and beyond to assist homebuyers in making the right decision. Our dedicated and experienced real estate agents will help you avoid any unforeseen challenges or headaches, guiding you towards a home worth living in. 
Kerby and Cristina, real estate experts, can help make the home buying process special and hassle-free. As one of the most renowned real estate teams in the Twin Cities, we have helped over 3,500 families discover their next home. We can help you gain access to the latest properties for sale in Plymouth, MN, optimizing the search process by putting our clients first. We always have your best interest at heart, utilizing both expertise and state-of-the-art technology to showcase the right homes to the right buyers. No more endless searching for the "right" property, as we'll make sure to showcase listings catered to your wants and needs.
Why Buy a Home in Plymouth, MN?
As one of the largest cities in Minnesota, Plymouth offers a vibrant and active community located just 13 miles outside of Minneapolis. 
At roughly 32 square miles with a population over 70,000, Plymouth is home to an active arts community, gorgeous parks, and winding trails that your family will love. It includes 6 picturesque bodies of water and hundreds of miles of nature paths to explore on your bike, a run, or a simple stroll.
What's There to Do in Plymouth?
Plymouth offers a wide range of events and festivities throughout the year for music and lovers of the fine arts. Whether it's a trip to see the Minnesota Orchestra at the Hilde Performance Center, art exhibits at the Plymouth Creek Center, or various outdoor summer music events — there's no shortage of festivities to participate in throughout the city. 
Plymouth is just a few miles away from neighboring suburbs such as Minnetonka, which houses the impressive Ridgedale Shopping Center. Additionally, you can head over to nearby Wayzata, where there is no shortage of high-quality boutiques, retail centers, and art centers. When the weather is warm, you can watch the sailboats cruise by at Wayzata Bay. A quick trip north puts you in Maple Grove, where you can enjoy awesome breweries, shopping centers, and even an indoor waterpark for the kids. 
The Plymouth area is within one of the most celebrated public school systems of Wayzata, Robbinsdale, Hopkins, and Osseo. Additionally, there are five incredible private school options sprouted around the community — making it an incredibly popular city for parents looking for premier schooling options. 
Why Hire Kerby & Cristina?
As a husband and wife team, we started our real estate company with family values in mind. We understand the unfortunate reputation of most real estate agents, and we've worked tirelessly for years to create a trusted organization that brings our core values to life. 
Here at Kerby and Cristina, we strive for a "never problems, only solutions" approach to real estate, offering our clients results for their homebuying needs and challenges. 
We love what we do, and after just a few minutes of speaking with one of our highly trained and committed agents, it becomes instantly apparent that we built a team that reflects our values. You'll get an individualized approach to home buying, as our team moves mountains to ensure that each and every client gets the home they deserve.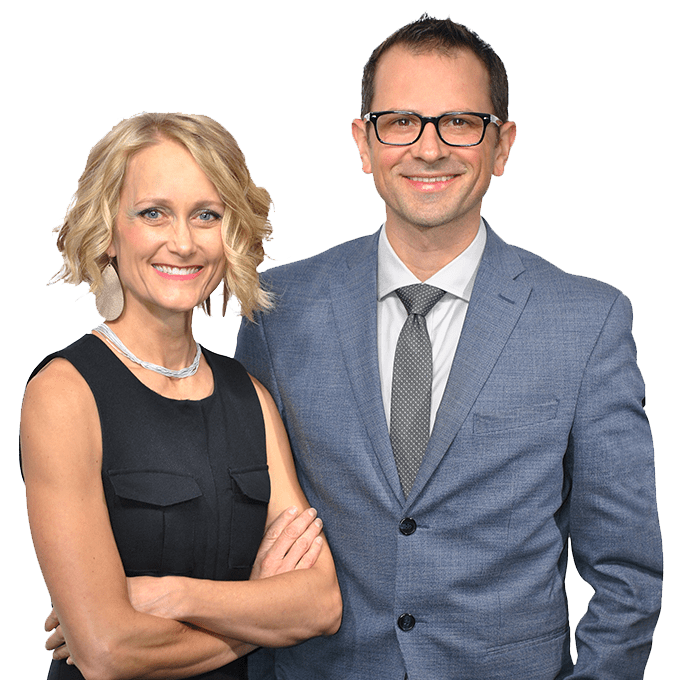 Buying a home is a lot of work, and we make it a whole lot easier from start to finish. Even still, there are plenty of tips and tricks we can offer homebuyers who are beginning their search for a dream property. 
Here are some important questions to answer before you get started:
What type of home is right for my family and me? 
How much can I realistically afford?
What type of financing may I need? 
What are the school districts like in the communities I'm considering?
Who will help me on my homebuying journey?
While we can most certainly help with the last question, here's some steps you can take in the meantime. 
Pick a Home That Matches Your Style and Needs
Whether it's a single-family ranch, a condominium, split-level, or sprawling mansion — you'll need to narrow down your options here to give your home buying experience some much-needed clarity. 
Consider Specific Features or Additions You May Want
Now, you may not get every specification on your dream house list, but you can most certainly get most (and add in the rest). At the very least, consider what type of community and neighborhood you'll want your investment in. Then, go on jotting down the basics like bathroom or kitchen layout, appliances, flooring, and overall feel. Make a list of what you must-have and what would be "fun-to-have." Luckily, speaking with one of our real estate experts can help make this list easier to manage. Fill out our home buyer questionnaire today to get started.
It's safe to say that touring, either in-person or virtually, can make a significant difference in the home buying process. Take your time and tour as many properties as possible. Purchasing a home is a massive achievement and investment, and you deserve to find the property you're looking for after all that hard work. You can also attend open houses with the help of a Kerby and Cristina agent! 
While it's not the most enjoyable part of the home buying process, knowing how much a lender can assist you with is crucial. Speak with one of our experienced real estate agents, and they'll be happy to assist you with understanding what size mortgage is realistic — and provide you with an extensive lineup of listings that fit within your price range. Knowing your budget is extremely helpful throughout the buying process, and saving up for a downpayment can make purchasing a more seamless endeavor. Don't forget to factor in closing costs, either. Lastly, getting pre-approved is a surefire way to become a more attractive and serious consideration during the offer phase. 
We combine years of experience, professionalism, and real estate strengths to craft long-lasting relationships with our clients. We know that communication often falls short with Realtors, but with Kerby and Cristina, you'll get an unmatched home buying experience. 
Contact us today to get started on buying your home in Plymouth, Minnesota.