Real Estate Agents Minnetonka
Our team is ready to help homeowners find their next property throughout Minnetonka, Minnesota. There is a lot to consider when buying a house, including finding the right place, determining a realistic price range, and making sure the new house has all the components you desire. The team of real estate agents at Kerby and Cristina are happy to help you with all of this. We will go above your expectations to ensure you make the best decision and avoid buyer's remorse. Our real estate agents are experienced and dedicated and can help you with any questions or challenges you may have about finding the right home in Minnetonka.
Minnetonka Homes For Sale
Kerby and Cristina are your local real estate experts. They can help make the home buying process memorable and hassle-free for you. As one of the most renowned real estate teams in the Twin Cities, we have helped over 3,500 families find their next home. Our team can help you gain access to the latest properties for sale in Minnetonka, optimizing the search process to put our clients first, always. We have your best interests at heart while utilizing both expertise and state-of-the-art technology to show the right homes to our buyers. Our real estate agents will make sure you see the best listings for your personal needs so that there is no more endless searching.
Why Buy a Home in Minnetonka, MN?
Minnetonka, Minnesota, is a suburban city located in Hennepin County. It is conveniently just eight miles west of Minneapolis. You will find a welcoming community and a vibrant outdoor scene on the shores of Lake Minnetonka. The name Minnetonka comes from the Dakota Sioux mni tanka, meaning "great water." The suburban city is home to many great amenities, including shopping, playgrounds, pools, parks, and of course, beaches. There are plenty of great restaurants and bars to visit, too. 
What's There to Do in Minnetonka?
There is no shortage of activities or things to do in Minnetonka, Minnesota. It is a fully developed suburban community with more than 53,000 residents. Located just a short drive from Minneapolis, residents can enjoy the city attractions when they'd like, but there's also plenty to do near home. Minnetonka is an excellent suburb for those who love to be outside, with its diverse bodies of water, wetlands, and prairies. One major draw is Lake Minnetonka, a large lake where many people enjoy fishing, boating, swimming, and reveling in the lakeside atmosphere.
With its variety of faith communities and top-ranking public school districts, all families will fit right into the neighborhoods in Minnetonka. The suburban city is served by three top-ranked public school districts: Hopkins, Minnetonka, and Wayzata, plus several charter and private schools.
People of all ages will enjoy the benefits of living in Minnetonka. Houses range from eclectic and historic to new and expansive. It's a premier location for all kinds of people. Enjoy local shopping, year-round recreational activities, renowned restaurants, and friendly neighbors in this suburb of Minneapolis. Minnetonka is truly a great place to buy a house and stay for a while. 
Why Hire Kerby & Cristina?
We founded our real estate agency as a husband and wife team with family values in mind. We know the unfortunate reputation of other real estate agents and have worked tirelessly to create a trusted organization that can bring our core values to life.
We strive for a "never problems, only solutions" approach to real estate at Kerby and Cristina. We want to offer our clients the best results for all of their home buying needs. 
It will become apparent after a short conversation with one of our committed agents that our team reflects our values. We want everyone to succeed, and we love what we do. Every client will get an individualized approach to the home buying process because our team will make waves to ensure each person or family gets the home they deserve.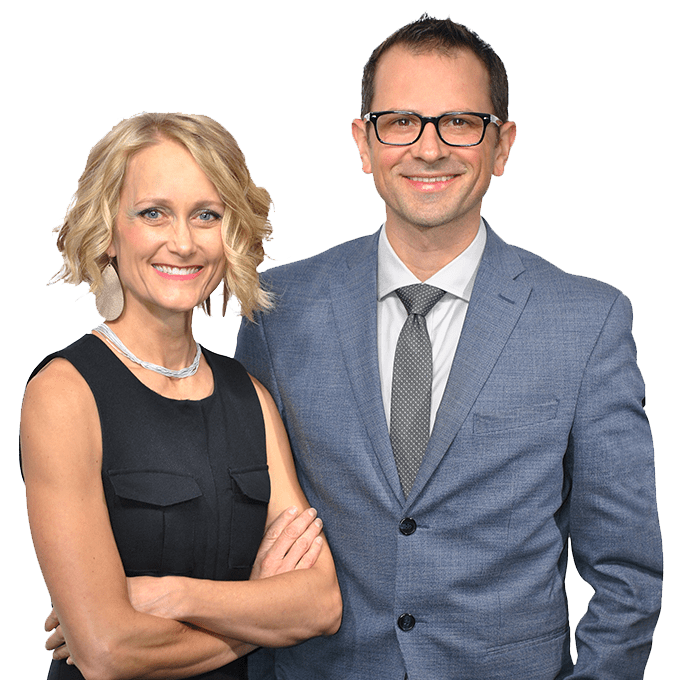 We make the home buying process a lot easier for you, from start to finish. Our team knows it's a lot of work to buy a home. There are plenty of tricks and tips that homebuyers should know when they start searching for their dream home.
Here are a few essential questions to answer before you start:
What type of home is right for my family and me? 

How much can I realistically afford?

What type of financing may I need? 

What are the school districts like in the communities I'm considering?

Who will help me on my home buying journey?
While we can most certainly help with the last question, here are some additional steps you can take in the meantime.
Choose a Home That Matches Your Style and Needs
It's essential to narrow down your options in terms of what kind of style you want. We can help you find the home of your dreams and give clarity to the experience, whether you're looking for a single-family ranch, split-level, condominium, or sprawling mansion.
Consider Specific Additions or Features You May Want
You can most certainly get most items from your dream house list, but don't expect to get every specification (don't worry, you can add in the rest later). Think about what kind of neighborhood and community you'd like to invest in. Then write down your basic wishes: bathroom and kitchen layout, appliances, flooring, and overall feel. Divide your list into must-haves and "fun-to-have." Talking with one of our real estate agents will make this list so much easier to manage. Get started by filling out our home buyer questionnaire today. 
Try to take your time and tour as many homes as possible, either online or in person. Touring will make a significant difference in your home buying process because it will help you get a feel for what's out there. Purchasing property is a significant investment, and you deserve a home that you love. Our Kerby and Cristina agents can attend open houses with you too!
Finances aren't the most fun aspect of buying a home, but it's crucial nonetheless. Knowing how much a lender can assist you is critical to find out what you can afford. Talk with one of our expert real estate agents to assist you with understanding what size mortgage is realistic. They can also provide you with a long list of homes for sale that will fit within your budget. Knowing your price range will be helpful throughout the process, and saving up a down payment will make it fast and smooth. Don't forget about factoring in closing costs, too! Finally, getting pre-approved is a valuable way to be an attractive buyer during the offer phase.
Discover Your Next Home in Minnetonka
The Kerby and Cristina team has created long-lasting relationships with our clients, thanks to our combined years of professionalism, experience, and real estate knowledge. Communication can often fall short with other Realtors, but not with Kerby and Cristina. We can provide you with an unforgettable home-buying experience.
Contact us today to get started on buying your home in Minnetonka, Minnesota.