I've been driving by the brand-new Lat 14 Restaurant on HWY 55 every day as I travel to and from work, so when Kerby asked if I wanted to review the place, I of course said I would. The initial plan was for it to be an office ladies "date" with our Listing Manager, Emilie, but something came up on her schedule, and I ended up inviting my friend, Blake along for dinner (I was SET on trying this place).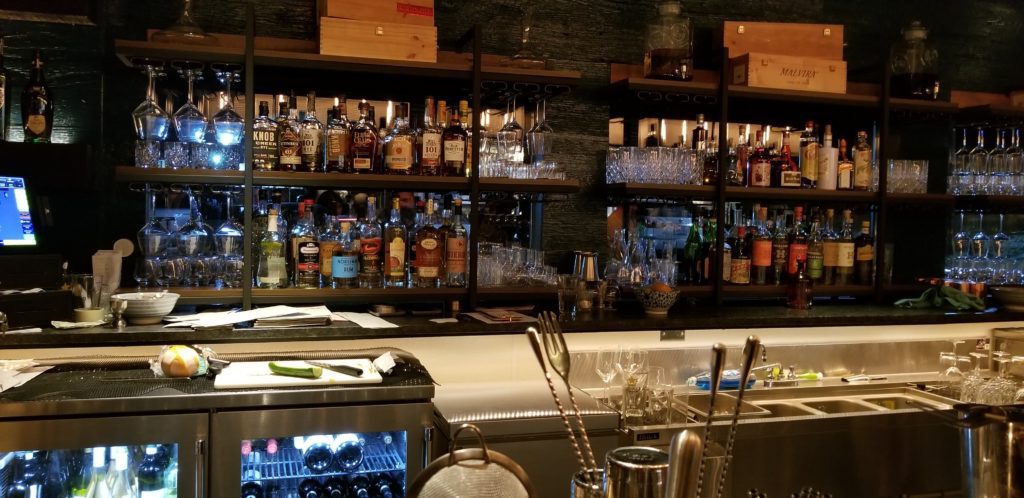 I got a bit nervous when I got to the hostess and she informed me that dinner was reservation-only, unless there was room at the communal table… and I did not have a reservation and the communal table was full (oops). However, luck was on our side and there were two great bar seats available. Unlike many restaurant bar seating options, this one was actually really nice to eat a meal at. We had a lot of space and it was fun chatting with the bartenders about the different drinks they were making.
Customer service is something this group already has down. The hostess was super friendly, as were the bartenders who helped us pick menu items that they thought we might enjoy. Everyone working there seems genuinely happy, making for an enjoyable customer experience.
The ambiance is perfect for an evening dinner. The lighting is dim, the décor is a bit darker and eclectic, and the overall feeling the combination gives off is warmth and good vibes.
Blake and I are indecisive when it comes to food, but there is one thing that helps us choose… he is not a big spicy fan, but I am, so we try to order a little of both (but not to either extreme).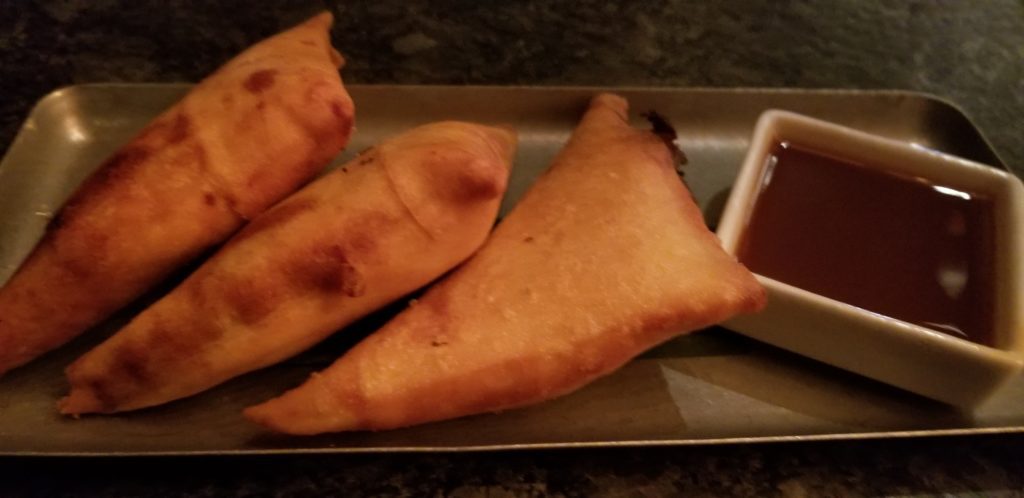 All of the smaller appetizer plates sounded tasty. Based on a recommendation, we ordered the Samosas, which consisted of ground chicken curry, potato, and tamarind sauce. I'd only tried Samosas once before and Blake had never, not to mention, we rarely eat fried foods, so this was fun to try. They were fried to a golden brown, making for just enough crispiness on the outside. They were pretty hearty for a starter dish. The curry gave them a subtle kick! We'd definitely order these again.


We agreed that the Bacon Pineapple Fried Rice with Chicken sounded amazing, so we went for that next. It had pineapple, sambal tumis, house cured bacon, pickled golden raisins, cashews, egg, onion, and a Thai greens blend. This was our not so spicy dish. In my opinion, it was well-prepared, but with exception to the bites with bacon, lacked on flavor. However, Blake thought the flavor was great and was intrigued by the "meaty, delicious cubes of bacon". The portion was quite large, meaning leftovers… and who doesn't love leftovers?
I LOVE curry everything, so it wasn't hard to choose a main dish to try! We ordered the Khao Soi Chiang Mai (yellow curry, chicken thighs, egg noodle, fermented mustard greens, crispy noodles). We both liked this dish more than the Fried Rice dish. It was rather spicy, which I was happy about, but not overly spicy, which he was happy about. I highly recommend you give it a try!
We had originally planned on ordering a Pad Thai dish as well, but were extremely full from the three we did order, so were glad we didn't (another time though).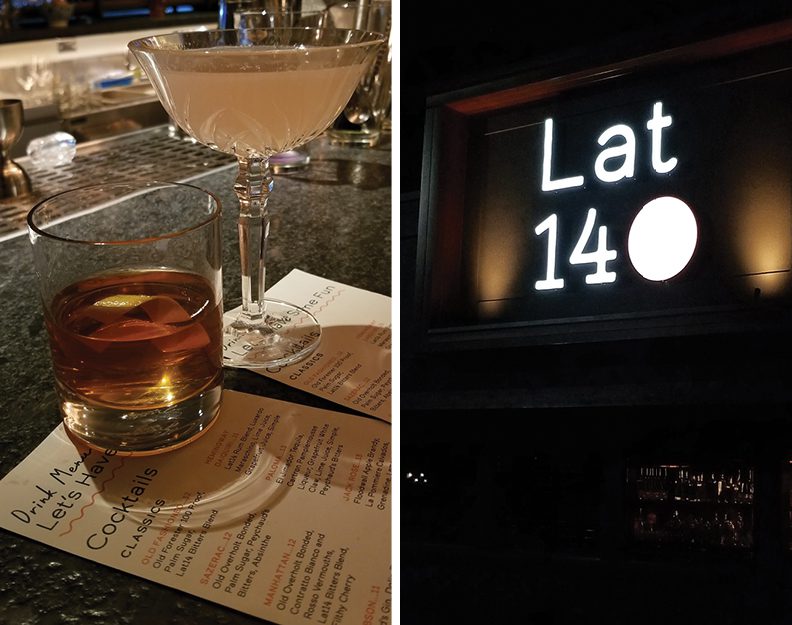 Their drink menu is phenomenally creative and fun. I tried the Hemingway Daiquiri which contained Lat14 rum blend, maraschino, lime juice, grapefruit juice, and bitters. YUM! This was a great cocktail to sip with dinner, as the fruity sweetness balanced the spiciness of the curry dish. Blake tried the Sazerac which was whiskey, palm sugar, bitters, and absinthe. His thoughts on this were, "If you want a smooth sipping drink to pair with dinner, this one is a winner!"
Lat 14 Star Ratings
Food: 4.5/5
Atmosphere: 5/5
Price: 4/5
Overall: 4.5/5
8815 7th Ave N, Golden Valley, MN 55427
(763) 400-7910
www.lat14.com