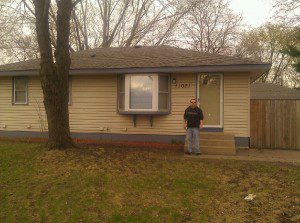 We met Matt a few months ago, just starting his home search. The father of a lovely little girl, he was ready to own his own place and establish a solid place for his daughter to grow up.
Now, Matt is a hard worker and a faithful employee. Having a stable job put him in a great position to purchase a home. However, pooling together enough money for a down payment, as a single father, is never an easy thing! Without fearing, we explored down payment assistance programs and were able to find the perfect fit for him, which saved him thousands of dollars!
We first had an accepted purchase agreement on the home, but during the inspection period, discovered there were MANY more issues with the bank-owned house that didn't meet the eye and would have not passed approval for financing. Even though Matt was out his inspection fee, what a GREAT investment to not purchase a home that would require many, many repairs that would have stressed him financially.
We recently closed on a great 4 bedroom home with a nice 2 car garage, updated and with a great yard! CONGRATULATIONS, Matt! It was a fun journey with you and I hope this home is wonderful for you and your family for many years to come! I hope I get to work with many chill, fun spirits like you going forward! 🙂
Thanks again for the privilege of being your realtors!