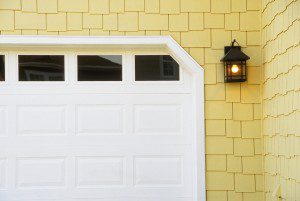 Garages are becoming more important, as evidenced by the rising demand for more space and amenities in this part of a property. But many homes don't even have one. How crucial is a garage for today's demanding buyers?
Home owner Carol Meerschaert had three criteria when she bought her house in Paoli, Pa., four year ago: central air conditioning, a master bathroom, and a garage.
"I was commuting by train to Philadelphia and purposely bought in a town where I could walk to most places: a bank, post office, and several restaurants, but there was no way I ever would get into a boiling hot car in the summer or a snow-covered car in the winter. I needed a garage," she says.
And the single-car garage that's part of her ranch-style house has suited her quite nicely, says Meerschaert, director of marketing and communications at the Healthcare Businesswomen's Association, a nonprofit leadership association, in Fairfield, N.J.
Other home buyers feel similarly about the importance of a garage. So, will the absence of one stymie a deal? Many older or smaller homes, as well as homes in the entry price range and even those in certain warm climates, may not have one. Or they may just have a carport with a roof but no garage door.
There's a second key question to ponder. Should sellers of houses without a garage construct one to compete when there's so much inventory on the market?
In both cases, there's no definitive answer since the importance of a garage hinges on so many factors, including a home's overall value, whether other houses in the same neighborhood have one, and the area's climate.
Saleswoman Peggy Patenaude, with Prudential Howe & Doherty, REALTORS®, in Andover, Mass., a Boston suburb, thinks a garage definitely increases the value of a property if it's in a mid-level or higher price range and in a cold climate. Moreover, if a home doesn't have one, it may prove a deal breaker, she says. "I think a two-car attached or detached garage can add $30,000 to a home's value; a one-car attached or detached garage may increase it by $15,000 to $20,000," she says.
Real estate investor and author Grant Cardone, whose eponymous company is based in Los Angeles, thinks having a garage is especially critical in this turbulent real estate market. Yet, he'll consider buying a house as an investment if it doesn't have a garage, as long as there's room to add it. "It was different four years ago because there was so much less inventory," he says.
But Cardone also believes that the investment is a good one. "The average two-car garage will return the investment two to two-and-a-half times. It doesn't mean you have to have one with polished or painted floors and other fancy amenities, but it does have to be clean and roomy. Adding some extra square footage doesn't cost that much more with this type of construction," he says.
Patenaude also recommends always including an electric door opener and, if possible, designing the garage so it's located on the side of a house with enough turnaround room rather than having it face the street, which is less visually attractive, she says.
Chicago architect Allan J. Grant thinks that a typical two-car garage should be at least 20 feet wide — 24 feet is optimal — and at least 22 to 25 feet deep. A single-car garage should be a minimum of 10 feet wide. He adds that making it slightly roomier allows for storage space for bicycles, garden equipment, outdoor furniture, and other "stuff" without much extra expense. Plumbing, electrical outlets and circuits, and a roof structure being expanded and enhanced to run air ducts for future heating and cooling all would increase the construction cost, but would permit converting the garage to a habitable room, if desired.
Grant also advises designing a garage to match a home's exterior materials and roofline, which may bump up the cost more. "If you're using brick, expensive wood, or stone for the facade and slate for the roof, you could easily double the $25,000 to $30,00 cost for materials and labor for a two-car garage, but if you go with more basic framing and asphalt roof shingles, the cost will be far less," he says.
Besides the dollar consideration, sellers need to weigh the time frame, since building on requires checking local zoning ordinances regarding how big it can be and if there's room due to setback rules. "Getting approval and construction take time," Grant says.
Patenaude agrees. "By the time sellers usually are ready to list their home, many aren't interested in investing that kind of money or in the wait. It's better to price the house according to what it has — and doesn't have," she says.
Realtor Mag | April 2012 | By Barbara Ballinger