For this month's restaurant review, I got to enjoy lunch with our team's Listing Manager, Emilie and Office Assistant, Brian. Emilie chose CōV in downtown Wayzata, and I have to say, it was an awesome choice! We arrived around noon on a Friday for lunch and just about every seat was filled. We were still seated promptly. Our server was great – she explained menu items and gave some suggestions. She seemed to really enjoy her job, which says a lot about a place.
The location on Lake Minnetonka is absolutely gorgeous, as is the restaurant interior. The coastal décor is very crisp and stylish with a mix of blues, whites, and browns. It felt very warm and relaxing.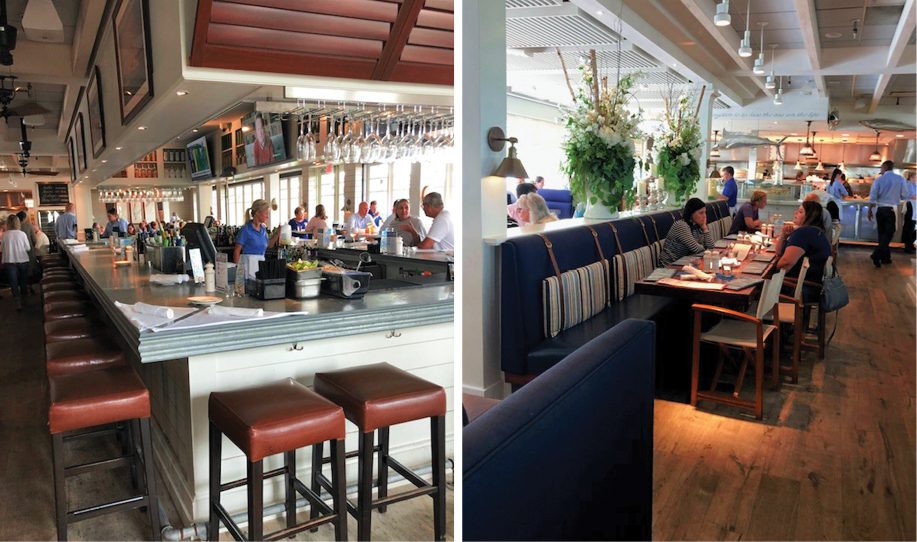 Their lunchtime menu is fabulous! It includes a variety of different options – there is definitely something for everyone. Every plate we saw was arranged beautifully. The prices are a bit higher than other restaurants we've reviewed, but the quality of the food and the amount of food per plate more than justifies the prices. You can always tell a restaurant that specializes in seafood from one that doesn't, and this one does, for sure.
We showed up very hungry and ordered two starter plates right away. We had been told by a fellow co-worker and foodie that we HAD TO order the Lobster Guacamole, so that was one of the two. The other starter we ordered was the Crispy Calamari Fries.
The Lobster Guacamole was fantastic! The combination of lobster, cilantro, avocado, lime, and jicama slaw was mixed and served with a side of chips for dipping. It was very light and refreshing. One of those great starters to share that doesn't make you feel full before the main course arrives. The lobster was prepared perfectly. The generous amounts of avocado and cilantro sealed the deal for me… would definitely order this again!
The Crispy Calamari Fries were something we all agreed sounded fabulous, and although the Lobster Guac was great, two out of the three of us liked the Calamari Fries better. Emilie and I both love calamari and agreed that this was some of the best we have ever had. They had a light crisp on the outside and were served very hot, so the texture was right on. They were served with two dipping sauces, a house-made tomato basil red sauce and a white remoulade – both amazing! We had to force ourselves to stop eating these otherwise we would have had no room for entrees!

For the main course, Emilie got the Kale Salad with grilled chicken. Emilie loved this salad and had this to say, "This was not your average kale salad! The salad is topped with sweet mixed berries, creamy goat cheese, and the best part, candied walnuts – YUM!  All the toppings worked so well together, creating a delicious flavor combination. CōV sets the bar high with their Kale Salad!"
Brian ordered the Chopped Salad with steak. In addition to the steak (cooked to a perfect medium according to Brian), this salad had chicken, bacon, onion, pepperoni, egg, and Italian herb dressing. When asked about the salad, he had this to say, "The thinly-sliced peperoni mixed in with the fresh lettuce and vinaigrette catches you off guard like finding a $20 bill in your pocket. Pleasantly surprised. This was packed with a lot of great flavor!"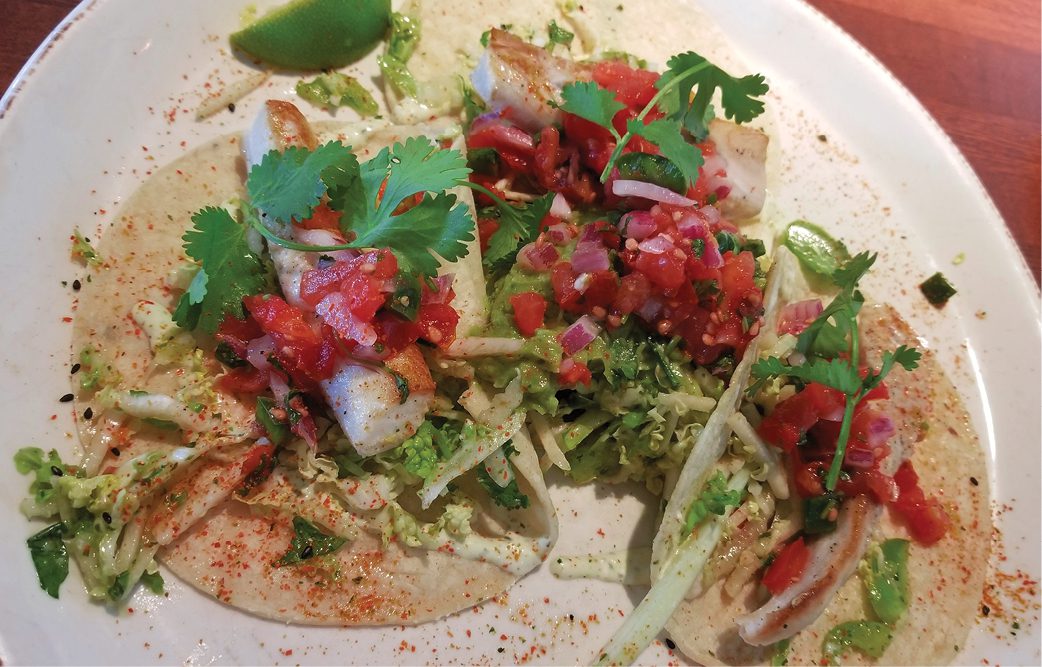 I had a hard time picking, but decided to go with the grilled Mahi Fish Tacos. SO GOOD! This included three good-sized tortillas packed with fish, jicama slaw, tomato, avocado, and cilantro remoulade. They don't mess around filling these babies up either (it seems like a lot of places hold out on ingredients in fish tacos, but not here)! The fish had an excellent texture and again, cilantro – yes! Some of the best fish tacos I've ever had!
We were so full, we had to turn down dessert on this trip, however, we did check out the dessert menu and it had a variety of great choices. Next time!
You could tell by the appearance and taste of the food that all the ingredients were incredibly fresh and of exceptional quality. I will definitely be going back to catch a happy hour and weekend brunch!
CōV Wayzata Star Ratings
Food: 5
Atmosphere: 5
Price: 4.5
Overall: 4.75
CōV Wayzata
700 East Lake St, Wayzata, MN 55391
952.473.5253
www.covwayzata.com