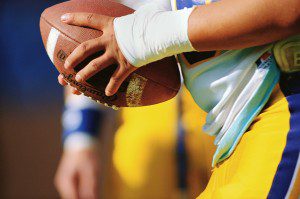 Written by the KCM Team on February 2, 2012
Given that it's Superbowl Week (Go Giants!), I thought we might go with a football theme today. I can't tell you how many different people I hear proclaim that they are the quarterback of the real estate transaction – the agent, the loan officer, an attorney, accountant or financial planner. But for goodness sake, the buyer/borrower had better be the one calling the shots. Not that everyone else doesn't play an important role, but the buyer/borrower is the one most impacted by the choices made.
Here's my opinion of how the team works best:
■Head Coach (Your Loan Officer) – Your loan officer should be the Head Coach. After careful analysis of your income, credit and assets, this is the person in the best position to make sure you are playing to your strengths and minimizing your weaknesses. Your loan officer can discuss the economic realities of homeownership, while listening to your quality of life concerns. (How often you'll be able to eat out or vacation, for example.) The loan officer can set up the game plan.
■Offensive Coordinator (Your Real Estate Agent) – Your real estate agent is your offensive coordinator. Armed with the game plan (which includes your limitations), the agent calls the plays, counseling you on the geography, the competition, the best ways to negotiate your way to your personal touchdown. Agents know the playing field (the inventory and the market). If you hire them to represent you, they can disclose the weaknesses of your competition (the seller).
■Offensive Line (Your Attorney, Accountant and Financial Advisors) – Your attorney, accountant and financial advisors are your offensive line. They are there to protect you from the blitzes that come from outside (sellers, title issues, tax consequences, and protecting your assets). Not the glamour positions, but vital to any success you are going to have.
■Running Backs and Wide Receivers (Your Friends and Family) – Your friends and family are the running backs and wide receivers. They often receive the glory and attention, but honestly, if everyone else doesn't do their job, they rarely ever see success. Bad game plans, weak play calling, poor execution on the offensive line or by you, as quarterback, leave them merely as names on the roster.
As with any team, communication is the most important component to getting the desired results. Being the center of the action on the field, the quarterback (you) needs to honestly talk with your coaches and coordinators, so they can help direct you on the proper play calling. Simultaneously, you need to heed the feedback from your offensive line, running backs, and receivers to filter wise advice from emotion. Be the quarterback of your own home-buying process and you'll be more likely to realize your dreams (and not the dreams of someone else).