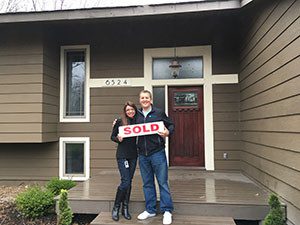 We met with Brian almost exactly a year ago to talk about their home in Plymouth. They reached out to us because they knew we were the experts in the area. The home was a little bit of a unique floor plan, and offered a few amenities that were not typical of regular homes in the area. We did an in-depth analysis and talked through what their home could benefit from in the staging perspective.
I also talked with Brian about what they were looking for in a new home that included a much larger, more updated home that would offer them a very private lot and location. We looked at several homes over the course of the year, and as we realized how particular their criteria was, it made the most sense to sell their house first and for them to be in temporary housing so they would have flexibility to capitalize on the right house when it came on the market.
We sold their home in record time, and we were able to get it sold for top dollar. Ironically, they ended up making an offer on the perfect home the same day that they signed a lease for the short-term rental. Everything worked out perfectly smooth for them, as they were able to get out of their lease early and only had to be in temporary housing for a short period of time. The home they bought is a dream home! It is a custom-built home, with high-quality features throughout, incredible custom lighting and a wonderful open floor plan. I cannot begin to talk enough about the incredible views from all the windows to a huge lot and a pond. The home also came with a pool, which is very exciting for them and with this warm spring. I have a feeling they will be able to enjoy the pool earlier than usual!
Brian and Sarah, I greatly enjoyed helping you navigate through the process of finding your dream home. I hope you enjoy it greatly with your kiddos! Congratulations!
Lead Agent: Cristina Edelstein-Skurat