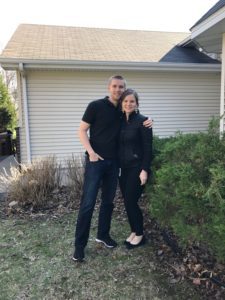 I met Lukas and Laura through my brother, who kindly referred them to me when they decided to start looking for their first home. They were recently married, working great jobs, and starting to think about building a family. We started off the conversation via phone and email about a year before they really dove into their home search. When they got to a place where they were ready to start making decisions, we really honed in on refining their home search.
We looked at several options, exploring opportunities, and I kept an eye open for pre-market options for them as well. An amazing home came on the market and we knew we had to jump on it right away. Not surprisingly, it got into multiple offers. However, we came up with some creative strategies, including a very dynamic and sweet letter to the sellers, and ultimately won the bidding war to get them this incredible home.
Lukas and Laura, I am so excited for you as you start building your beautiful family in your new home. Congratulations and thank you for allowing me to be a part of this very special stage of your life! We look forward to continuing to support you and your family over the years.
Lead Agent: Cristina Edelstein-Skurat