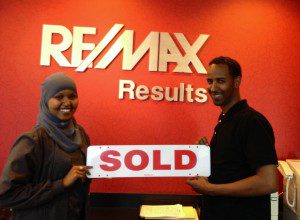 I met Raqiya and her sister Mahado after they had connected with Kerby through some online inquiries. They were looking to relocate to the Twin Cities from Kansas City and needed an aggressive realtor to help them locate the right home in a good city. Raqiya and Mahado have great tastes –they wanted a larger, newer home with bigger bedrooms and an open floor plan. Since they are first time buyers and both work a lot in the medical field, they needed to have a home that would be move-in ready and that did not require a lot of maintenance. In addition, having a sufficient amount of bedrooms was important for them, since they are having their siblings and their mother living with them as well.
We originally started looking from Brooklyn  Park all the way to Woodbury. As Raqiya's job with United hospital in St. Paul got finalized, we narrowed the search to Savage, Eagan and Apple Valley. Not only are these wonderful suburbs, but they provided the style of home these ladies wanted as well as quick access to their jobs. First, we had an accepted offer on a home they liked, but after the inspection, they decided it was not the right home for them. Not too much longer, we found the perfect home for them – a 5 bedroom, 3 bath home with a nice, open kitchen with a large peninsula, vaulted ceilings, and a nice yard overlooking a wonderful pond area, providing them with plenty of privacy.
We negotiated on the price and having the sellers pay for some of their closing costs, as well as some things that came up in the inspection. Now, these sisters and their family have a wonderful place to live that is close to their extended family in nearby areas. I had the privilege of meeting their brother, Anwar, pictured with Raqiya, at the closing. Congratulations, Ali family! We look forward to helping you and your family for years to come.