By Jackie Waters of www.hyper-tidy.com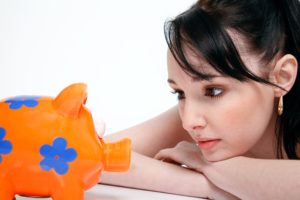 If you've resolved to live your best life this year, you're not alone. Many of us want to improve conditions with our health and home. However, what do you do when you need to make changes but can't afford an overhaul? Instead of going big, you start small. Here are a few tips and tricks on inexpensive improvements you can make in the two rooms you likely love the most: the bedroom and the bathroom.
Your Best Rest
Health and happiness are largely dependent on how you treat your body. Unfortunately, one area most Americans fail to prioritize is sleep. Your bedroom may be part of the reason you don't get the rest you need. Thankfully, it doesn't have to cost an arm and a leg to turn a sleep slum into a sleep sanctuary. A restful bedroom should be properly lit, void of electronics, cozy, and comfortable. Consider adding blackout curtains and soft lighting. Clear the clutter to make way for things that promote restful sleep, such as a white noise machine and decorative pillows, which can pull double duty as back or leg supports overnight.
If you don't have the funds to invest in a comfortable mattress, a temporary solution is to add a memory foam, fiber, or down mattress topper. Karen Lorio Adelson of the Strategist recently reviewed some of the most popular styles, which range in price from about $50 to $600 or more. If you are a hot sleeper, look for a mattress pad that encourages cooling and air circulation, and spend a few extra dollars on breathable linens. New sheets, curtains, and bedding don't have to be expensive; discount stores, such as Bargain Hunt, Ross, and Home Goods, often have last year's luxury bedroom products at a fraction of the price. A DIY headboard, soothing pieces of art, and a new rug are also fairly inexpensive additions that can round out your new space.
A Luxe Lavatory
If there's anything that helps you unwind for a good night of sleep, it's a nice warm bath. However, if your bathroom isn't a place of respite, it's not going to help you settle your body and mind. If you're low on funds, keep in mind that a good cleaning can completely reinvent the bathroom. When decor is the problem, add a pretty shower curtain, which can serve as the focal point of your bathroom's new style. A curved shower rod will increase space if you prefer to stand in the shower instead of lounging in the tub.
A quick trip to your local hardware or home furnishings store will reveal a number of inexpensive accessories that can help you update your bathroom for $100 or less. A large mirror, decorative toilet paper holder (available for under $20), ceramic soap dispenser, and a few candles are easy upgrades that you can make all at once without going over budget. Treat yourself to a few quality towels, which will make your bathing experience more enjoyable and won't irritate your skin. Crate and Barrel recommends towels with banded edges, as these are less likely to fray and unravel, meaning they will last longer and maintain their appearance.
Finally, if counter clutter is driving you crazy, look for ways to free up space. An unused CD organizer or over-the-door shoe rack makes an excellent place to store makeup, toothbrushes, lotions, and more. MakeSpace.com lists 42 creative bathroom storage hacks. Another option is to put items in storage that you're not ready to get rid of.
You don't have to be wealthy to enjoy a few luxuries that will improve your quality of life. Something as simple as a set of blackout curtains, a noise machine, and new bedding or a few candles and a clean bathroom can make all the difference. Don't let a lack of funds or a very tight budget stop you from living your best this year.