Accent walls help spice up a room, and specifically gallery walls, are the big thing right now. Gallery walls allow you to put together completely unmatched pieces of art on your wall and make them work together through a common theme. Choosing a color, texture or pattern to be the inspiration for your wall lets you loosen the "rules." The tough part about gallery walls is actually figuring out what works — and what doesn't. Follow these tips and you'll have a wall you can't wait to show others.
Tip #1: Choose Any Wall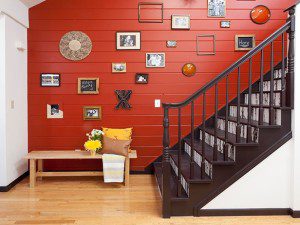 A gallery wall doesn't have to be limited to a foyer or living room. Choose walls that are normally bare, such as a staircase wall. HGTV's John Colaneri and Anthony Carrino hung knicknacks on a bold red wall for an instant upgrade. Any colored wall against other neutral walls is bound to stand out with little work.
Tip #2: Add Personal Touches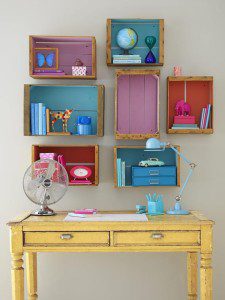 Create a custom look by arranging your favorite photographs or souvenirs from your travel experiences in shadow boxes. No matter what wall you create your gallery on, these personal pieces will get the attention of anyone coming into your home.
Bonus: This idea serves double duty as a storage solution.
Tip #3: Pick Unexpected Items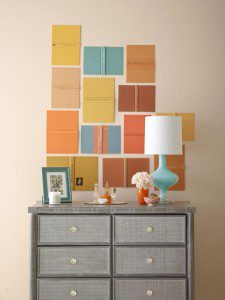 A gallery wall doesn't just have to be framed pieces of art. This wall of hollowed out, cloth-covered books was hung with upholstery nails in each book's four corners. You could find anything that fits your style and make it a part of your gallery wall. Time to get creative and express yourself! 🙂
Tip #4: Placement, Placement, Placement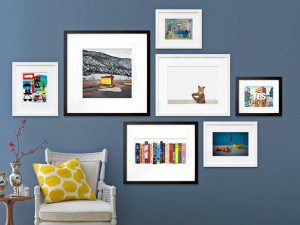 Once you've chosen all your pieces, it's time to think of placement. Try to find an online design tool that will let you configure your idea before actually putting holes in your walls. Even laying it out on the floor and measuring the distances you like is a good indicator if it will work on the wall. This is especially important when you're creating a gallery wall above furniture. Be sure not to hang pieces too low or high — a good rule of thumb is eight inches between the base of the frame and top of the furniture piece, according to Jen Bekman, founder of the popular online art shop, 20×200.
Tip #5: Be Fearless
A gallery wall is your opportunity to express your passions. So, have fun and don't worry about going a little crazy. Mixing up your gallery wall with your personal treasures will make your house feel like home.
What are some of your tips and ideas for creating the perfect gallery wall?
Source & Photo Credit: HGTV.com