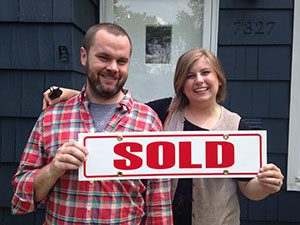 Josh and Eden are a fun and fabulous couple. They moved to Minneapolis about three years ago for a job opportunity, and reached out to us because they were ready to quit renting and start building some equity!
They were looking for something they could fix up, but also something move-in ready, with easy access to public transportation to Eden's job in downtown Minneapolis. After a couple weekends of house hunting, we came across a home in Richfield that ticked off a lot of their wishes: a kitchen large enough for Josh to work his cooking magic in, a cozy finished basement for binge-watching TV shows on Netflix, and a backyard where they could enjoy bonfires (an old past-time they've missed over the past three years while renting.) The home was the most move-in ready home we'd found, but the attic space is unfinished with loads of space, so they'll have the opportunity to turn it into a large upper-level master suite and build the equity they were hoping for.
The home ended up getting multiple offers, but we ended up putting together the winning offer strategy, including writing a letter to the Seller that included pictures of Josh and Eden's cats. The Sellers, we learned, were also cat lovers. It was meant to be. 
Congratulations to Eden and Josh on their new home!
Buyer's Agent: Shannon Walling