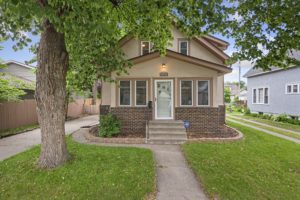 I helped Erich purchase his house in 2012. He is a friend of mine from high school. He graduated with my sister and I graduated with his brother. The 2012 purchase was his first home purchase. He bought in an up-and-coming part of Northeast Minneapolis.
Erich got married this year to a great gal, Brittany. They decided it was time to sell his first place and find "their place". Erich called me and was hoping for a realistic range for his home. I showed him a set of comparables that were in line with what he was hoping for and he was pleased with the research and results of the analysis, so he decided to move forward. We had our staging team out and Erich and Brittany took care of everything the stagers recommended. The place looked impeccable and when we photographed it, the photos turned out amazing.
We listed the home at the upper end of the range of the comparable homes in the area. Within the first day on the market, we got 6 offers and one of those offers was 11.5% over asking price! That was the one they ultimately went with. We negotiated some strong appraisal language in the offer, so if the appraisal came in low, the buyer would cover the gap. We didn't have to go there, as the appraisal came in just fine. It was all smiles on closing day for both Erich and Brittany, and for the new buyers. Thank you, Erich and Brittany, for allowing me to work with you again. We now look forward to helping you find your next home!
Lead Agent: Kerby Skurat