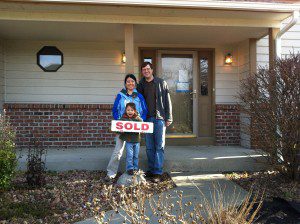 Andrew and Janet are my cousins and they have two lovely little girls. They approached us months ago, expressing their desire to buy a home closer to work and the kids' school in Eden Prairie. We took the home search slowly, since they weren't in a hurry, and I sent them listings over the next few months, touching base occasionally about different homes, the search criteria, etc, what it would look like to rent out their current home, etc.
One day we came across a perfect home for them. Now, it wasn't perfect in the traditional sense. Let's say that the "bones" of the home and layout were awesome. However, the bank-owned home needed some updating and flooring; truly, mostly cosmetic updates, but plenty of work nonetheless.
However, this underpriced home is tucked in an incredible neighborhood with solid home values and a large lot. With lots of curb appeal, an open kitchen with an island and a great master suite, the potential was there and Andrew and Janet jumped on the opportunity. They are very, very smart people and they calculated their costs, ran the numbers, got estimates and we made an offer on the home very quickly after it came on the market. Not surprisingly, the home went into multiple offers because it was such a good deal, and they got the home because they made a smart offer – the right price with the right type of financing and they were going to occupy the home as their primary residence. The home was theirs!
Congratulations, Andrew and Janet! We hope that you will be very happy in this home and that all the projects and painting are going excellently! We were very honored to help you buy this home and we look forward to seeing the finished product!