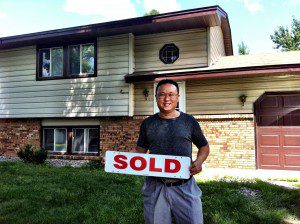 What's the moral of this story, always? That those who work hard and persevere and get out there win. Well, Sam is the perfect example of this.
He had a set budget and a clear goal in mind. He had a timeline. We discussed this all during our Home Buyer Consultation and set him up on a great search to help him reach his goal of homeownership.
Every time there was a good house that popped up, Sam was ready to see it.
We speedily checked out several homes and started making offers on bank-owned deals. It was amazing how fast the good deals were flying off the shelves! We made 5 aggressive offers on homes and still lost out to better offers. Finally, when Sam walked into the last home, he knew it was it. He made a very aggressive offer right off the bat before any other buyers could get in there or the bank could sit there waiting for more offers and locked up the home the same day! We were ecstatic! We then proceeded to work out all the details for escrowing some funds to do the city of Brooklyn Park required repairs, getting bids from contractors and sorting out what work Sam could do himself.
This wonderful split level home is perfect for Sam's family and I'm so happy and honored that we got to be the ones to help them become home owners! I wish you the best of luck as you get settled in!