The U.S. housing market is booming, but it isn't unsustainable like we saw a few years back… let's hope that doesn't happen again! We have the right checks and balances in place and the U.S. Government really wants to see the housing market sustain and consistently move in the right direction. The rates staying low is an indication of their desire.
What is awesome to see is the Twin Cities Metro is showing the right growth signs as well. When you look at the average sales price in August 2012, the first year of true recovery, we were at an average sales price of $202,657. August 2015 in the Twin Cities Metro reported and average sales price of $259,849. That is a growth of about 28% over those three years or about 9% annual, steady growth.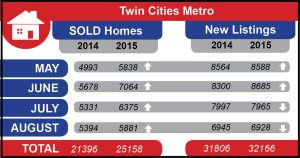 This is fueled by fewer homes being on the market and more sales happening. In the "Summer Months" (May, June, July and August) of 2014, we saw 21,396 homes sell. This year, 2015, in those same "Summer Months" we saw 25,158 homes sell. That is an increase year over year in the summer months of 17%! That is GREAT for the inventory levels of homes available for sale. If you are noticing your neighbors having sold signs faster, they either hired us, or they experienced the benefits of this great market!
As far as new listings go in the "Summer Months" there were 31,806 homes that came on the market in 2014. In 2015 we saw 32,166 come on the market. That is only an increase of 11%. So we saw 11% more homes come on the market in 2015, but 17% homes sold in 2015. That is a GREAT sign that the market is moving in the right direction!
CONCLUSION:
The data varies from neighborhood to neighborhood and your home deserves to have a detailed analysis done if you are thinking about selling. All you have to do is give us a call and one of our great listing experts will come out and get you an industry leading "Equity Evaluation". This is different than the typical "CMA" that most agents use. We bring a representation of what buyers are looking at to understand value and help you understand how that looks compared to Average Price as well as the Price Per Square Foot and Above Grade Price Per Square Foot. We look at internet estimates and tax values as well. Though these don't affect value, buyers are looking at them and we want you to be aware of what buyers are seeing. If you simply have a "CMA" (AKA a Current Market Analysis) you don't have the full story on what your home is really worth in today's market.
Before you list it, get all the facts. Call the experts today to get the full story on your home's value!