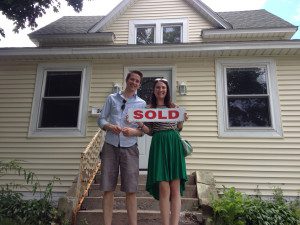 I first met Zoe and Peter at my office in Uptown – they were getting prepped for their wedding in August and wanted to make sure they had a house locked down before their attention started getting pulled in a million different directions. With this being their first home purchase, they were pretty flexible with most aspects of their search – as long as it was in good shape and in a good neighborhood, they were willing to take a look!
I got a call from Zoe a few days after our consult saying she had stumbled upon an open house while driving through Hopkins – and had fallen in love. The house went into multiple offers immediately and we hit the ground running to put together an offer. A few hours later, we were alerted that we got it! We got through the inspection contingency without a hitch (except for a mystery hole in the back yard that we were able to get sorted out) and it was on to closing!
Zoe and Peter were fantastic to work with – Zoe was very diligent in making sure she understood everything she needed to know about the transaction and Peter was always prompt and available to answer my questions or respond to emails. The whole process was very enjoyable and I am excited to see what those two do with their new house. Welcome home Zoe and Peter!
Ryan Bunke