We helped our incredible brother Dan and sister-in-law Kerah purchase a duplex on Bryant Ave S in the Uptown area of Minneapolis over a year ago. They have so loved their exact neighborhood and even street ("Biker's Boulevard!") that they decided they would love to stay living in the area in the long run, eventually purchasing a single family home.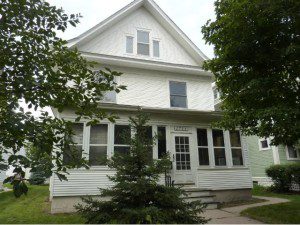 We kept our eye on the market and scoured what was available that could be a great deal over the past several months without being under any rush. When the right home came on the market, we jumped on it. It happens to be a block down from their current duplex, on the same street! It is a HUGE home with a ton of square footage, a more than two story home. The main level and upper are finished, but the third level is completely open and ready to be finished when they want the additional square footage.
The home needs some basic TLC and cosmetic work, since the previous owners must have not been able to maintain the home. Either way, we jumped on it and during the inspection were able to get the sellers to pay for radon remediation. The appraisal ended up resulting in the price of the home getting negotiated down due to investor to resale mortgage rules that completely benefited Dan and Kerah! The closing went smoothly and now they are busy getting their new home cleaned up and updated before they have their baby!
Congratulations Dan and Kerah! We are so excited for you as you start settling into your new home and making it your own.
Lead Agents – Kerby & Cristina Skurat