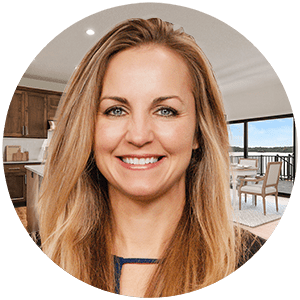 Tiffany Vick
"I am dedicated to providing my clients the best in customer service by helping them find their dream homes, their forever homes, their first homes or their vacation homes. Whatever the purpose, consider me your real estate resource. I have a passion to provide excellent customer service when assisting clients in making the biggest purchase of their lives. "
---
Having grown up in Edina, Golden Valley, and Hopkins, Tiffany has been a Twin Cities girl her whole life. She quickly gained her independence, growing up as an only child, she was eager to start working at an early age. She had purchased her own car and had been working for two years by the time she was 16. She graduated from Robbinsdale Cooper High School and moved on to college. She studied business at The College of St. Catherine's. She worked in retail management for 13 years, but she always dreamed of being a Realtor. With her love of architecture and the desire to help people find their dream home, she left the retail world 2 years ago to pursue a career in Real Estate and is loving every minute of it. Tiffany joined the Kerby & Cristina Team in 2016.
My dream job would be... Being a Realtor! I love helping people every day achieve their dreams in owning their dream home.
My first job was... Working at Dairy Queen at the age of 14 … who doesn't love a Blizzard.
When I'm not working you'll find me... Training for marathons, traveling, or spending time with my family. I have three beautiful daughters and a supportive husband. My favorite places to train are the Lakes: Calhoun, Harriet or Medicine Lake, which is one of my favorites and close to home.
My favorite vacation spot is... Kauai!! The most lush and tropical paradise I have ever seen. I would love to live there.
The best "unknown" restaurant I've been to is... The Red Cow, EVERYTHING is Good!
My favorite food is... Sushi
Client Reviews:
Tiffany was willing to go the extra mile in this crazy market. She helped me find the perfect home and I am so beyond thrilled. She came highly recommended from two other happy buyers and I'm glad I took their advice!
Deirdre K.
Tiffany is the best in the business! We never felt lost or intimidated throughout our buying experience. Tiffany always took the time to answer any of our questions no matter how unimportant we thought they were. She really went that extra mile to help us find our dream home.
Scott and Jim Laskowski
Tiffany has provided us with stellar service in both the purchase of our second home and the sale of our first. She is fun to work with in addition to being a reliable voice on the nature of the housing market best practices and when and how to take chances with amazing results. We have so enjoyed working with Tiffany and everyone at Kirby & Christina Remax Results.
Laura and James B.
Contact Tiffany: 612-236-8575 or Email Me