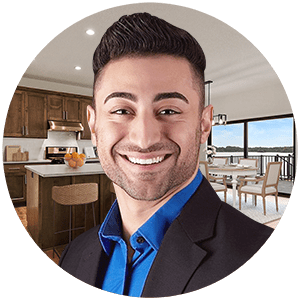 Sherif Yousef
"Your home purchase is an investment, not a gamble. Whether buying or selling, you're looking for an expert who can partner in your success to achieve the best price, sell in the shortest amount of time, with the least hassles. That is what I am here for!"
---
Raised in Minneapolis, Sherif is the son of 2 immigrants and has embodied the American Dream. He started working at the family gas station at age 9. Sherif learned business fundamentals and grew their first store into a flourishing business that serves the local community. Sherif is strong and dependable and has an eye for making things the best they can be. He applies his business skills/connections to the real estate world and goes above and beyond to make sure his clients are cared for. You may overhear him on a call sharing trusted contractors, mortgage lenders, title companies, or having the necessary, tough conversations that move transactions forward. There is nothing he won't do for the people he cares about.
My dream job would be… Other than real estate, growing a landscaping business because I like to have the nicest lawn in the neighborhood.
My first job was… I was 9, couldn't see over the counter, and ringing up customers at my family's store.
When I'm not working, you'll find me… freshly updating the interior/exterior of his home, building his 180 gallon exotic fish aquarium with live corals, or riding his lawn mower with his son to make perfect lines in the grass.
The best "unknown" restaurant I've been to is… The Nook in St. Paul has a delicious juicy lucy.
My favorite food is… Anything Taco Bell!
My favorite vacation spot is… Los Angeles because they have Krispy Kreme and In-N-Out burgers.
Client Reviews:
Sherif is an exceptional real estate agent. He answered all our questions promptly and put customer interest before his interest. I am very happy with the outcome and the price my house sold for. Id definitely recommend him to anyone and should I need any future services you are the guy!
Faris H.
This was our first home purchase and Sherif was very knowledgeable. He made us feel comfortable and at ease with this new experience. He made time for us and was always available to answer any and all of our questions. He followed up with us and checked in to make sure we were on track with finding the right home! He explained the whole process multiple times to make sure we knew what to expect. He was great!
Desirae G.
Sherif is an amazing real estate agent who works hard for you and is extremely personable. He made our purchase process as pleasant and stress-free as possible. Highly recommended. Many thanks!
Colin and Giuliana
Contact Sherif: 612.886.4969 or Email Me