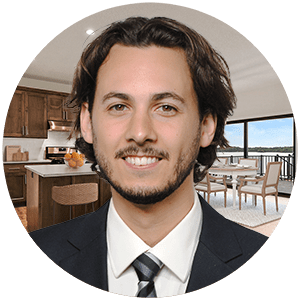 Sean Giambruno
"When you come to a fork in the road, take it." - Yogi Berra
---
My name is Sean Giambruno and I was born and raised in St. Cloud, MN with amazing siblings, 1 sister and 2 brothers. We were constantly competing with each other and the neighbors, competitive sports and yard games were a huge part our youth. At 12 years old, I started working with my brother and dad on a paper route. This wasn't my dream job so I as soon as I was able, I decided to try out dishwashing at Pizza Ranch, then designing beautiful pizzas at House of Pizza, this was great fun but not quite what I was looking for. I decided to go to St. Cloud State University to earn a Bachelor's Degree in Finance. Shortly after, I earned my real estate license in 2016. Through the years following, I developed a greater knowledge of Real Estate from working as a Property Manager, a Salesman for Home Building and Remodeling Experts and General Manager of Priority Plumbing & Drains. To this day, I continue to be involved in sports as a player and fan and I think I found my dream job!
My dream job would be… Real Estate is the dream, I absolutely love to help my clients buy and sell their homes! If I had to pick otherwise, I would be a pilot with an occasional skydive mixed in.
My first job was… Around 12 years old, I was delivering Newspapers to my neighborhood by bike and helping with groundskeeping at the Waite Park baseball fields.
When I'm not working, you'll find me… Spending time with my wife and dog, Miah and Chloe. You can typically find us hiking on trails throughout Minnesota. Chloe, our 13 year old Border Terrier still sets the pace. We enjoy trying new food and spending our evenings with extended family and friends.
The best "unknown" restaurant I've been to is… Hyacinth in St. Paul!
My favorite food is… Definitely pizza
My favorite vacation spot is… Riomaggiore in Italy.
Client Reviews:
Sean made selling my house a fantastic experience. He was detailed and thorough on what I should expect throughout the process. He was also very quick to make adjustments as needed to complete the sale.
Thomas D.
The Minneapolis housing market is well documented as a very difficult market to navigate as a first time buyer. Sean was exceptional in his approach of finding us a house that met our criteria and kept us motivated through difficult moments. In addition to helping us he was prompt and professional with our mortgage lender selling agents and inspectors alike. He has a great eye for details and helped set our expectations for each step of our journey to purchasing our first home.
Jason Soejoto
Sean provided endless insight and thorough expertise which made us feel comfortable and confident in choosing our dream home. We could not be happier with the outcome and truly enjoyed the process. Thank you Sean!
Ashley and Rikki
Contact Sean: 612.322.0059 or Email Me