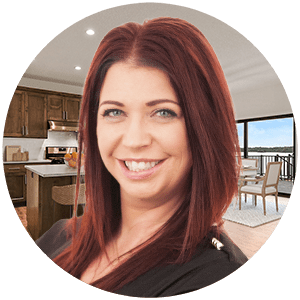 Sarah Brown
"I love meeting and establishing relationships with people. Hearing their stories and learning about their wants, needs, and hopes, in both life and for their home, is my passion. Providing red carpet service and making sure all my clients' needs are met is number one. Helping people with one of the most important decisions of their lives is extremely gratifying. I love what I do!"
---
Sarah grew up in Thief River Falls. Her family has owned a 110-acre organic farm since 1901, where her great-grandpa was born and raised. Recently, Sarah's family started growing organic garlic as a family business. Entrepreneurship and hard work have always been the roots of her heritage. Her family means the world to her, and they maintain strong family ties and love to get together for all occasions. She has excellent customer service skills thanks to many years in the restaurant industry. These skills have contributed to her success in real estate. She loves her job because of the relationships she gets to build and grow. Her goal is to help others' homeownership dreams come true! Sarah has been a Realtor since 2010, and currently lives in Osseo with her son, Declan.
My dream job would be… A makeup artist (with Realtor being a very close second). I love people and building relationships with them!
My first job was… The Twins Pro Shop. What can I say… I love sports!
When I'm not working, you'll find me… Hanging out with my beautiful baby boy, working out, or entertaining family and friends at my house.
The best "unknown" restaurant I've been to is… Duffy's in Osseo! They serve the best pizza EVER!
My favorite food is… Sushi
Favorite vacation spot… Hawaii, but Clearwater Beach is a close second and a lot easier for a weekend getaway.
Client Reviews:
Sarah was very proactive in listing our house and provided wonderful guidance and direction in getting our house ready for showings. She was very supportive and encouraging during the showings. She is a top notch agent.
Allen and Ruth Mickelson
The process has been so easy and seamless and also for keeping me up to date on every step of the process!!! Thank you for all your work in selling so quickly!
Dawn Bradley
Sarah was clear and concise and a joy to work with through the whole process. Highly rate her for her knowledge and personality.
Ben Oie
Contact Sarah: 651-247-7394  or Email Me