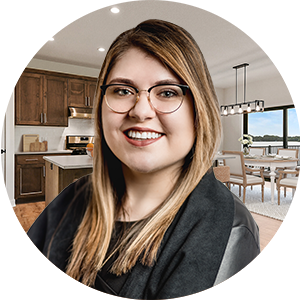 Samantha McCarroll-Hyne
"Working with clients is a long-term investment for me. Not only do I want to find you the ideal house to complement your lifestyle, but I want to ensure you are happy with your decision for years to come. This purchase is likely the biggest decision of your life in this moment, but it is also a long-term investment that will impact your family for generations."
---
Experiencing homelessness in my family has given me a profound interest in making sure everyone I meet feels safe and comfortable in their homes. After working in multifamily housing for several years and helping hundreds of people find their ideal apartments, I shifted my focus to helping clients find a permanent place of residence while building equity and generational wealth. I was born with moderate bilateral sensorineural hearing loss, which is ironic because my name literally means "good listener." But I've learned that you don't necessarily need the best hearing capabilities to be an attentive, empathetic listener. I have an intermediate proficiency in American Sign Language, and I am proud to be a part of the Deaf/HoH community in Minneapolis. Despite being hard of hearing, I absolutely love live music, and I attended 38 (yes, thirty-eight) Prince concerts before he passed away! I genuinely love watching others thrive, and I get incredibly invested in my clients. With me on your side, you will have an incomparable advantage in the housing market by having an agent who truly understands your wants, needs, and goals and will always act in your best interest.
My dream job would be… This might sound cliché, but my dream job is the one I have now. I am passionate about promoting ownership and autonomy within the communities I serve.
My first job was… Making milkshakes at Galaxy Drive-in in St. Louis Park.
When I'm not working, you'll find me… In my free time, you can find me volunteering at the North Minneapolis Pet Resource Center (NMPRC). We work with community members to make sure they have the resources they need and never have to decide between paying bills and properly caring for their furry family members. NMPRC is run by the non-profit organization My Pitbull is Family; we also do outreach with property management companies and insurance providers to educate them and work towards ending discrimination in housing based on the reputation of a dog's perceived breed.
The best "unknown" restaurant I've been to is... Lago Tacos
My favorite food is... Naachos!
My favorite vacation spot is… Northern Minnesota. My dogs and I love staying in Duluth and visiting Grand Marais. Put us in the woods without cell service or electricity for a few days, and I'm a happy camper!
Contact Samantha: 612-888-6769  or Email Me