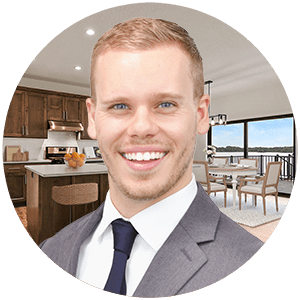 Sam Beebe
"I love working in Real Estate because I get the pleasure of helping make peoples' dream of homeownership come true. I like to show clients that it does not have to be a daunting task to purchase a home. It can and should be a painless and exciting time."
---
Sam was born in San Jose, California where he lived for 6 years before moving to Bloomington, Minnesota. Sam graduated from Bethany Academy in Bloomington. He pursued a degree in Acting and Theatre Performance at Normandale Community College, but ultimately decided to leave acting to pursue a different passion, Real Estate. Sam loves the teamwork and culture on the Kerby and Cristina Team. He also works as a Youth Pastor at his local church and loves working with and encouraging kids and young adults.
My dream job would be… as an NFL Team Owner or a Life Coach… that's a hard one because I just want to accomplish and try new things.
My first job was… working as a Cashier at Sports Authority.
When I'm not working, you'll find me… working out, at church youth events, hanging out at a coffee shop, or at a bar watching the Vikings!
The best "unknown" restaurant I've been to is… Ted's Montana Grill in Bozeman, MT.
My favorite food is… whatever Grandma is making.
My favorite vacation spot is… anywhere by the ocean. I love Laguna Beach, CA and the Outer Banks of North Carolina.
Client Reviews:
Sam was great to work with. Very patient and eager to provide information on properties as well as how the process works.
Lauren Huppler
Sam has come to feel like part of our family. He took the time to learn so much about us through the many twists and turns of house shopping to finally buying. In today's market we moved with relative speed to finding our home. He took us to countless houses! It was all homework for us and he was so patient. On bad days where our hope plummeted I swear I took out frustrations on him just like family too! He was always gracious about everything. . I love that he truly learned the personality and character of the home we wanted. When he saw the one we are purchasing he said when I walked into the upstairs rooms with the light coming in I could just see you guys here! He captured it exactly. We are more than happy with the professional yet very personal service of finding our home!
Lenore Barsness
Sam was amazing to work with. It always felt like we were his top priority and he helped us discover and refine what we were looking for in our first home. He made us feel taken care of throughout the whole process and calmed any nervousness in the first time home buying experience.
Jacob and Natalie
Contact Sam: 952.456.2414 or Email Me