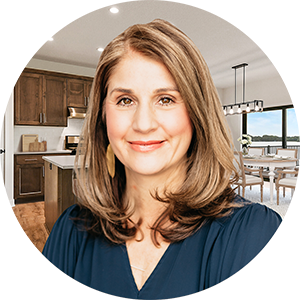 Rachel Smith
"Being in Real Estate makes me feel rewarded every day because I get to help clients and solve problems. Real Estate has allowed me to focus on What I Can and Love to Do!... Planning, Analyzing, Marketing, Strategizing, Seeing and Interpreting Trends, Negotiating, Sourcing, Creating Contingency Plans, Financial Planning, Costing and Pricing! I am passionate about using these skills to benefit my clients during one of the most important decisions they will ever make."
---
Rachel grew up on a farm in a small town in Illinois and knows how hard her parents worked to support the family. That hard work ethic has stuck with her throughout her life. She graduated from the University of Kansas with a Business degree and went on to spend 16 years in corporate retail in executive level positions at Target Corp and Gander Mountain. She felt unfulfilled in corporate life and made the switch to real estate. Since joining our team she quickly became one of our top producing agents selling over 60+ homes annually. Her passion for helping her clients achieve their goals also applies to agents on our team. She has a leadership role within the company as Sales Director coaching, mentoring, and ensuring agents on our team are set up for success within their real estate careers.
Rachel is married to her husband Jason. They have two amazing children, Lottie born in 2011 and Riley born in 2013. Outside of work she loves spending time traveling with her family, reading a good book, learning how to garden, and going to Hot Yoga.
My dream job would be… Working for the travel channel and being able to go to all the top destinations in the world.
My first job was… Making Pizzas at Casey's!
When I'm not working, you'll find me… At a yoga class or hanging out with my family.
The best "unknown" restaurant I've been to is… Primo Plates and Pours in Long Lake.
My favorite food is… Homemade pasta and Bolognese that my husband makes!
Favorite vacation spot… Cabo.
Client Reviews:
Working with Rachel was an amazing experience! She is an excellent real estate agent who is professional and very knowledgeable - we could not have found anyone better to work with.
Amy Flavin
Rachel exceeded our expectations as a realtor. She demonstrated in-depth knowledge of the market the process and the neighborhoods we considered for our home purchase and she was most helpful in sharing freely of her insights and alerting us to potential red flags with the properties we viewed. More than her expertise Rachel was a kind caring and personable advocate during this daunting process...a process that leaves many buyers and sellers with cold feet and frustration. Rachel keeps extremely busy as a realtor but we were thrilled she typically responded to our inquiries within a day. She stuck with us for nearly a year helping us find the perfect fit which is where we finally landed. Thank you Rachel for your expertise and guidance during our home journey.
Shawn H.
Rachel did a tremendous job marketing and selling our home for us. We were confident she would do a great job based on the discussions we had about our needs and expectations. Her background and experience were a great match for what we were looking for in an agent. Rachel exceeded our expectations throughout the process. The results we achieved were exactly what we were looking for. Highly recommended!!!
Thomas Szymanski
Contact Rachel: 612-219-0027 or Email Me