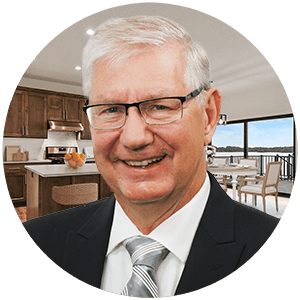 Larry Anderson
"No person was ever honored for what he received, honor has been for what he gave."
- Calvin Coolidge

"I am truly honored as over the past 2 decades, I have been able to share my knowledge of buying, selling, renovating, and rental management with clients to help them have trust in the real estate process that I am able to lead them in! I love helping friends and referrals navigate their way through the transaction of buying or selling. The details of a real estate transaction can feel overwhelming and yet with my years of experience, I can give direction and comfort in how to proceed to the completion of the transaction."
---
I grew up in the St. Francis, MN area on a dairy farm with 5 siblings. There I learned early that everyone pitched in to get the many chores done daily. Continuing that work ethic into my adult years has served me well, knowing that I need to finish strong, finish the job at hand, and to the best of my ability. I realized early as an adult that I received satisfaction from helping other people and realized that was a great attribute to have as a realtor. My 25 years as a realtor has been great for providing direction and negotiating skills for representing my clients best interests in real estate.
My dream job would be… Be realtor for water front homes worldwide!
My first job was… ate night janitor during college.
When I'm not working, you'll find me… Spending time on the water, whether at my lake home or Aruba
The best "unknown" restaurant I've been to is… Dirty Al's South Padre Island Tx. Best fresh jumbo shrimp and fish!
My favorite vacation spot is… Aruba Always 82 degrees in the day and 78 degree water temp!
Client Reviews:
Larry has been the best realtor to work with. He knows what to look for in a good house and won't let you buy a money pit! I'd absolutely recommend Larry to anyone!

Jessica Sonsteby
Larry originally struck me as detail oriented which is good when dealing with contracts. But as we spoke was evident he is also very personable and cares which I wasn't looking for but is a genuine bonus! Great Realtor!

Mark Janke
Larry is the absolute best! So personable honest and down to earth he has a true passion for his job and was willing to drop everything to take us house hunting at our request. He has so much integrity. He strives to help the clients find just the right home and makes the selling experience painless too. He has helped us buy and sell two homes and we enjoyed working with him immensely!

Marc and Margaret Carlson
Contact Larry: 763.360.4551  or Email Me