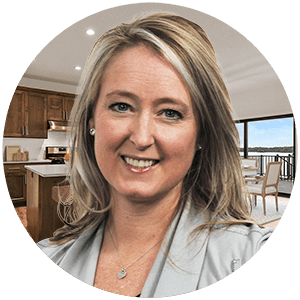 Kathryn Webb
"My secret sauce is compassion, a high sense of urgency and faith. I value helping people and I'm here to help YOU in your real estate venture. I understand the excitement of buying & selling; having sold 4 homes in 3 states within 6 years and my goal is to make this a seamless transition in this next chapter of your life."
---
Kathryn was born and raised in Charleston, SC, attended college in GA and graduated with a Bachelors in Marketing from Kennesaw State University. She and her husband moved to Minnesota in 2018 and fell in love with the people and the community. She has bought and sold 4 homes in 3 states in 6 years and is proud to settle in and call MN home. With 14 years of sales and marketing experience in the corporate world she is excited to put her corporate hospitality experience mind set into the world of real estate. You can find Kathryn and her family vacationing at Disney World or at the beach every year. She loves traveling and visiting extended family any holiday she can. Most weekends you'll find her at her girls' soccer, dance or hockey games.
My dream job would be… in Fashion (I do have an associate of arts degree in fashion merchandising)
My first job was… America Eagle Outfitters (I feel everyone should work a retail customer service position at some point in life)
When I'm not working, you'll find me… at my girl's sporting events
The best "unknown" restaurant I've been to is… Lake & Irvine
My favorite food is... Seafood
My favorite vacation spot is… Hawaii
Client Reviews:
Kathryn was VERY helpful in selling our home super fast. She and her team communicated quickly told us what we needed to do and helped us to market and sell out home without any hitches. We will definitely use this team again!

Jenn Johnson
Kathryn is and has been amazing to work with! We had what seemed like an insurmountable task moving cross country for work all while in a pandemic working overnights in a different time zone and with a brand-new baby. She walked us through every step, really listened to what we wanted and needed, offered her own relatable experience, and helped make this process so smooth and seamless. She even answered my late-night email ramblings changing my mind a thousand times (oops!). We are SO grateful that we had the opportunity to work with her and would recommend her to anyone looking for an agent they can trust. Thank you for your effort and dedication to helping us achieve our dream of owning our first home!

Amanda and Forrest Olinger
We are so glad we had Kathryn to help us find our new home in this competitive market of 2021. Kathryn was great at advising us of different strategies to make our offers more attractive to sellers. She was always very responsive to our questions and available to take us to lots of showings. She also guided us through all of the negotiations with the sellers. Definitely can't recommend Kathryn enough!

Tanya U.
Contact Kathryn: 678.237.7442  or Email Me