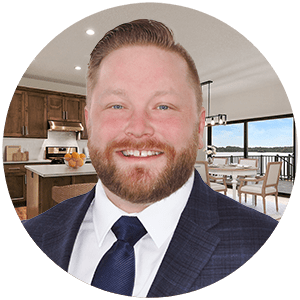 Justin Freberg
"I truly enjoy getting to know each one of my clients. Really understanding their needs and wants helps me provide exceptional service while guiding clients through the largest purchase of their life. Whether it's your first home, upsize/downsize home, or an investment property, I am honored to be able to bring a stress-free and memorable experience to buying and selling real estate."
---
Justin grew up in Maple Grove, MN with a younger brother. He grew up playing hockey, riding dirt bikes, snowmobiling, and spending time at the cabin. Justin spends his leisure time playing golf, on the lake (summer and winter), riding his snowmobile, and thoroughly enjoying time with friends and family. He currently lives in Osseo, MN and joined the Kerby and Cristina Team in April 2019. He is passionate about bringing homeownership to fruition for all his clients!
My dream job would be… a Chef. I love how food brings people together.
My first job was… at Freedom Gas Station.
When I'm not working, you'll find me… spending time outdoors.
The best "unknown" restaurant I've been to is… Spoon and Stable.
My favorite food is… It's hard to pick one, but I'm a big fan of smoked BBQ.
My favorite vacation spot is… the North Shore of Lake Superior - lots of memories with family there.
Client Reviews:
Justin has been fantastic and is really nice and honest. He also would take time to proactively send us houses and let us know about showings that he thought we may like. He made the process seem as easy as possible.

Kelsey Johnson
Justin Freberg was very professional at all times keeping me aware of everything that was happening If I had any questions he was always available to answer. This was my first home purchase I didn't know much about the process but he made it easy to understand I really enjoyed working with him.

Juan Juarez
Honestly this process could not have gone any smoother. Justin was awesome and that is me being modest. From speaking with me and figuring out my needs. To referring me to a lender (who was also awesome) and just walking me through this entire process step by step. I literally felt as though I did nothing through the entire process. In the very end I never felt stressed worried or concerned and I still walked away with a home that I am still excited to be living in. I cannot thank Justin enough for the time and effort he spent in making sure I found the house that I dreamed of. I don't know if your company has an employee of the year month or day award but if you do my vote goes to Justin.

Christopher Pope
Contact Justin: 763.228.9227 or Email Me