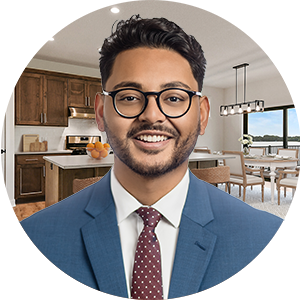 Juan Jurado
"It's the one thing you can control. You are responsible for how people remember you—or don't. So don't take it lightly." - Kobe Bryant
---
Juan was born and raised in Rochester, Minnesota. He is the middle child with one older brother and a younger sister! Juan attended the University of Minnesota graduating with a Bachelor of Science degree in Sociology. Why sociology? He wanted to better understand society structure and the world around him. During his free time, he enjoys spending quality time with his family, friends, and his German Shepard named Rocky. He loves to travel and enjoy the outdoors! Juan had always imagined himself being a real-estate agent after graduating high school. During the time, if he wasn't doing any of the listed activities… he was most likely scrolling through Zillow. It took him some obstacles, a degree, and some self-realization that he needed a career that suits his driven personality.
My dream job would be…Marine Biologist / Zookeeper
My first job was… Sales Associate
When I'm not working, you'll find me… Learning more about wildlife!
The best "unknown" restaurant I've been to is... Quality Seafood - Redondo Beach CA / Nupa - Rochester MN
My favorite food is... Salmon
My favorite vacation spot is… Anywhere with tide pools!
Contact Juan: 507-990-1913  or Email Me