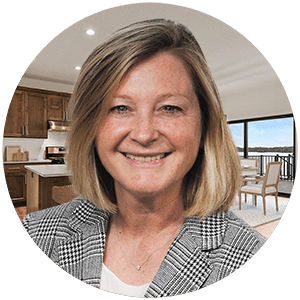 Gina Byers
"In everything that I do, I believe that as a Showing Agent supporting my co-workers and providing the best customer service to the clients is most important. Being apart of the process of helping people find the place they want to call home is extremely satisfying and gratifying and anything I can do to help is my number one priority."
---
Gina was born and raised in Medina, Minnesota. After graduating from high school, she graduated from the University of Minnesota for both undergraduate and graduate degrees. She in Tacoma WA and abroad during her college years. She has a broad work experience in both the profit and nonprofit sector and has always maintained a strong and diligent work ethic. She has two young-adult sons that fill her with great joy watching them pursue their dreams! She enjoys a wide variety of activities from traveling abroad, downhill & cross-country skiing, walking with friends, volunteering on an advisory board with Augsburg college, watching hockey and spending time with her family.
My dream job would be… to be a middle school choir teacher. I would love to work with kids and let them have a great experience learning music!
My first job was… working as a receptionist at a hair salon in Wayzata in high school.
When I'm not working, you'll find me… keeping busy doing something.
The best "unknown" restaurant I've been to is… Axel's now Pig On The Porch in Loretto, MN
My favorite food is… enjoying different kinds of food when I have the chance.
My favorite vacation spot is… The South of France. The smell of the Jasmine plant that lines the streets of the neighborhoods is amazing.
Contact Gina: 612.272.8693 or Email Me