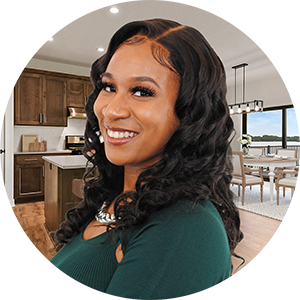 Darisha Hill
"Real Estate provides the highest returns, the greatest values, and the least risk. "When it comes to buying or selling your home, choosing the right REALTOR® can make all the difference. As an experience agent with skills to negotiate and price your home right, you'll receive real results and not just promises when you partner with me." "Life is a journey, not a destination. Learn to enjoy the ride and Hire me as your REALTOR®"
---
Darisha was born in Chicago, IL and raised in Saint Paul, MN with her parents and 4 siblings. As the middle child, Darisha learned fast to adapt, navigate and help her family cleaning business. After graduating from Johnson Sr High School, and Saint Paul Technical College with a degree in Business Management. Throughout high school and college, Darisha worked in the banking industry, property leasing and financial health and adapted fast-pace customer service and leadership role. Shortly after graduating college Darisha got her real estate license and never looked back. Darisha, is strong and dependable and has an eye for making things the best she can be. With a degree and Business Management, she applies her business skills/connections to the real estate world and goes above and beyond to make sure her clients are cared for. Darisha is passion and commitment to servicing others. She educates and provide realistic knowledge of homeownership from start to finish. When you work Darisha and her team, you'll be backed by their expertise and insights, on pricing, strategies and negotiations process as well as the support, visibility and networking capabilities. Whether you're selling, or buying your first home, ready to move up or downsize, invest, Darisha and her team always ensure you have a fun, seamless stressful and memorable experience every time. Call me today - We'd love to help you reach your real estate goals and more.
My dream job would be… CEO of my own Business :) I am living this Dream!
My first job was… My family cleaning business
When I'm not working, you'll find me… Investing, traveling, yoga, trying new vegan meals and learning about astrology
The best "unknown" restaurant I've been to is... Vegan Snack Shack - New Orleans, LA
My favorite food is... Fruits of all kinds, Vegan Pasta, Fried Oyster Mushroom, Africa, Jamaican, Caribbean food & Seafood
My favorite vacation spot is… Anywhere on an island with white sand and clear blue ocean water.
Contact Darisha: 612-226-9958  or Email Me