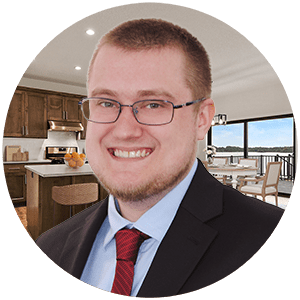 Cullen Hundertmark
"Teamwork makes the dreams work." It truly takes an amazing team to do this job well, and the Kerby and Cristina team exemplifies that. I've been in the real estate world for a while now and it's rare to find the passion and cohesiveness that you get with this team. When you choose Kerby and Cristina you really are getting a whole team of people behind you, not just a Real Estate agent. From the office staff, to the stagers, to the agents, and everyone else, you're getting the best of the best at every stage of your home buying journey."
---
Hi my name is Cullen Hundertmark. I grew up in Maple Grove MN. I've been a showing agent with the Kerby and Cristina team for 3 years now. My passion is real estate investing, it is the main reason why I got my real estate license in the first place. In my free time I love playing basketball and pickleball. I am also on a Whirlyball team and am going to nationals for my first time this year.
My dream job would be… My actual dream job would be getting into syndication of real estate deals. My hypothetical dream job though would be General Manager of the Minnesota Timberwolves. They could pay me A LOT less and I could make equally bad if not actually some better decisions then what our typical GMs make.
My first job was… Dishwasher at Mongos Grill
When I'm not working, you'll find me… Probably playing pickleball or basketball somewhere. OR on Monday nights you'll find me at Whirlyball for league nights.
The best "unknown" restaurant I've been to is... No doubt in my mind its River Inn in Hanover. Any other answers are probably wrong :).
My favorite food is... Tacos! You can pretty much make any food a taco with some creativity.
My favorite vacation spot is… Colorado, the only place I've ever been that made me immediately want to move there.
Contact Cullen: 763-257-5328  or Email Me