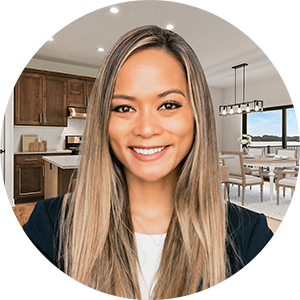 Bonnie Nguyen
"I love working with clients to achieve their dreams, with a worry free experience! Whether working with first time home buyers or sellers that are downsizing, I always offer my honest opinion in a straight-forward approach to the home buying/selling experience."
---
Bonnie was born and raised in Rochester, Minnesota. She attended the University of Minnesota Twin Cities for two years and graduated from the University of St. Thomas with a bachelor's degree in marketing management. Bonnie's passion is traveling and playing with her morkie puppy Massie. She also enjoys yoga, outdoor gardening, indoor houseplants, biking, snowboarding, camping, and cooking. Bonnie has been a licensed Realtor for more than a decade. She joined the Kerby & Cristina team in November 2013 and sold 136+ homes partnered with Cristina in her first year. She also enjoys helping her friends and family (and of course referrals) with their real estate needs!
My dream job would be... Traveling the world as a food blogger/adventure enthusiast
My first job was... Cashier at my family's restaurant
When I'm not working you'll find me... Practicing yoga at Lifetime in St. Louis Park or in my Garden!
My favorite vacation spot is... Mexico – just a short plane ride away to sunny beaches!
The best "unknown" restaurant I've been to is... Namaste Café, an Indian restaurant in Uptown
My favorite food is... Bún riêu – Vietnamese vermicelli soup with tomato broth, crab and shrimp paste
Client Reviews:
Bonnie was always very helpful always on time for the showings very knowledgeable and willing to share that knowledge to the smallest detail with every step. I would definitely recommend her to anyone!
Vicente N.
We worked with Bonnie to find our dream home and it was a wonderful experience! She was very knowledgeable helpful and caring in that we got what we were looking for! And we knew she had our best interest in mind! Cannot say enough wonderful things about Bonnie and the rest of the K&C team that helped in this process!
Long and Thao
I HIGHLY recommend Bonnie Nguyen for any of your real estate needs. She is very professional personable efficient honest determined and has a vast knowledge of all of the aspects of the business. She went completely out of his way to help save what many other agents perceived to be a lost cause property from foreclosure. Her communication and negotiation skills are top-notch. Everything was straightforward and well explained without any last minute "surprises". The closing was quick and was handled in less than 45 minutes. She also put a lot of his personal time into research and preparation for the sale of this house.
Hungjhoang
Contact Bonnie: 612-532-7445 or Email Me