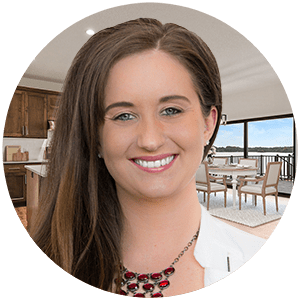 Allie Guerra
"I have a true passion for helping others and I've been able to accomplish that in a big way helping clients, family, and friends make the largest purchase of their lifetime, a home. This can be an overwhelming time and I strive to help make the process as stress-free as possible for my clients. Providing an excellent experience through the home-buying or selling process is my number one goal!"
---
Allie grew up in Apple Valley and now lives in Prior Lake with her husband Jon and their two daughters, Rylynn and Myla plus their hound dog named Melo. In addition to her real estate license Allie also has a Bachelor of the Arts degree from the University of Minnesota. Throughout high school and college, Allie worked in restaurants, where she adapted to the fast-paced customer service environment. Shortly after graduating from college, she got her real estate license and KNEW that being a Realtor was what she was meant to do! Allie has a true passion to serve her clients at a high level and help them reach their real estate goals. Allie has extensive experience with first time home buyers, move up buyers, new construction and helping clients WIN in a competitive market! Allie's quick responsiveness to communications will help you achieve your goals faster and get you where you want to go! Allie genuinely cares about each and every client and strives to provide the best experience possible.
My dream job would be… I already do it
My first job was… as a hostess at Champps at age 15.
When I'm not working, you'll find me… at the pool, going on bike rides, shopping, and spending time with family & friends.
The best "unknown" restaurant I've been to is… Jensens Cafe
My favorite food is… Italian. I could eat spaghetti almost daily.
Favorite vacation spot… Orlando, Florida.
Client Reviews:
When entering into something as stressful as buying a home you want Allie to have your back. She is experienced knowledgeable and absolutely delightful to work with. It really feels like she is invested in getting your home as much as you are. With her help and guidance we were able to get the home we really wanted. She's the best!
Sarah L.
Our experience with Allie was exceptional. She knew the market very well and got us significantly more for our house than I ever expected! I would and will recommend Allie to anyone that I know is in need of a realtor.
Scott Fischer
Allie was wonderful to work with! With her help we were able to sell our house in 3 days with multiple offers. Allie was always available and quick to respond... She knows how to hustle!
Kristen and Eric Mattsson
Contact Allie: 952.381.4221 or Email Me