The sun is shining and the weather is getting warmer….time to do some serious Spring cleaning.  There's nothing like having the windows open at the beginning of Spring.  The fresh breeze blowing through the doors and windows and hearing the birds chirping outside….ahh…..so much better than snow!
Here are a few tips to help you get started on the cleaning of the interior of your home.
1.)  Clean out the closets and make room for your Spring/Summer clothes.  Like the old saying goes, "If you haven't put it on in the last year, you probably won't".  Set a box or two aside and donate any unused clothing and accessories.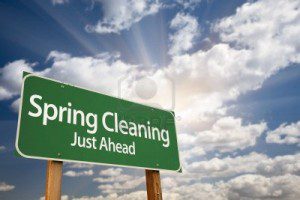 2.)  Clean your painted walls with a soft rag and water and if they don't come clean, use a little bit of dishwashing liquid.  You may need a fresh coat of paint to spruce them up.
3.)  Create a different feel for the season change.  Bring in brighter pillows, rugs and accessories and store the Fall/Winter items for after summer.  This will give your house a fresh and clean feel without spending too much money.
4.)  Get your carpets cleaned.  Make sure you vacuum as much as you can, especially if there are a number of people and pets living in your home.
5.)  Wash the windows inside and out.
6.)  Dust all window treatments.  If you have blinds, this can be very tedious.
For a great checklist from Martha Stewart, click the link below.  Have fun and let the cleaning begin!!!
http://images.marthastewart.com/images/content/web/pdfs/2007Q2/la_0407_spring_cleaning.pdf