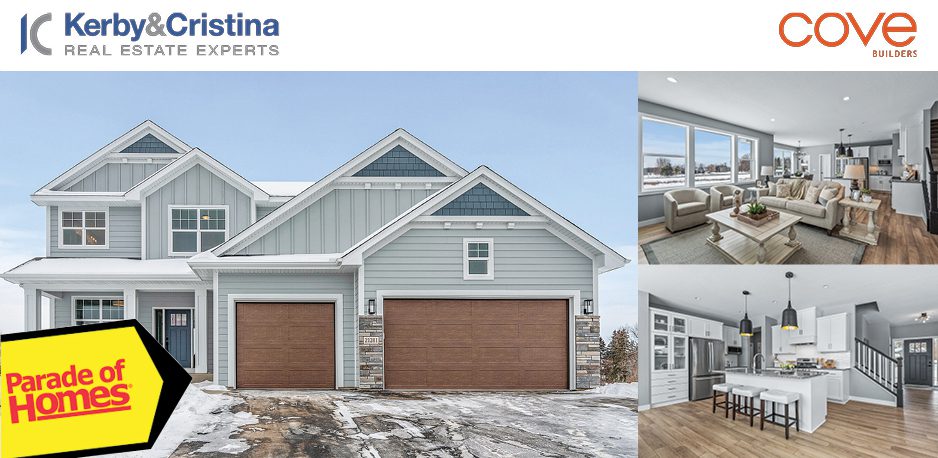 This year's 2021 Spring Parade of Homes starts February 27th-March 28th and will feature a stunning Model Home at 21281 Poate Court, Rogers built by Cove Builders! Kerby and Cristina Real Estate Experts has the privilege of representing Cove Builders and their newest community, called Fletcher Hills in Rogers, MN. It's exciting – the lots are going quickly, so consider reserving yours before they are gone! You can visit our model or set up a private appointment to go over information more in detail. Check out the incredible available lots here.  
When planning to tour the Spring 2021 Parade of Homes, know why it's essential to have an Expert Buyer Agent that is knowledgeable in new construction AND representing you from the moment you walk into a model!  
Our agent will look out for your best interests because like with any home purchase, there can be potential for unexpected or hidden complications, no matter what home builder you are working with. Many big builders are actively looking to exclude buyer agents in order to get the highest price and best terms for the builder, not the buyer! For that reason, it's VITAL to have your agent WITH you at the first walk through of models. Plus, it's an exciting time we don't want to miss!
Our agent can help ensure you hire a reputable builder because they communicates with a vast network of agents, vendors, lenders, and other industry professionals. Whether it's weather, labor shortages, or issues with materials, they can walk you through what to expect when buying a new construction home.


Our agent will help you understand the differences with lots you can choose from, location, and neighborhood. They will know the right questions to ask about these items, so you are fully informed. This will ensure you make choices about your purchase that will best serve your interests.


Our agent will guide you through upgrades and plan modifications! One of the best things about new construction is that you may be able to customize the home to your exact wants and needs. This means you can choose the amenities that are right for you, and choose what amenities are valuable if you ever decide to sell. Without proper guidance, you can end up spending money on extras or upgrades that are not important to you, or in many cases, blow the budget out of the water. And especially when we are helping you stay within your budget, we help guide you through what to prioritize in the build itself (like structural features) vs updates or cosmetics you can change down the line.


Our agent will negotiate on your behalf and make sure all the paperwork, including the contract, is in order before you sign anything! AND help you navigate through any matters that could arise between contract to close.


Our agent doesn't cost you anything extra! The builder, like a seller, is responsible for paying your agent to help you throughout the entire process of building your new construction home. Plus – most quality builders prefer to have an expert buyer agent representing the buyer because they know it results in the best win for all parties!
If you are interested in connecting with our Expert Buyer Specialists to prepare for the Parade of Homes call us today at 612-812-9262! We would be honored to make building your dream home a reality!